FL72 Review: Andy Hughes reflects on the Football League weekend
Every Monday night, the Sky Sports experts will review the weekend's Football League action on FL72. Check out Andy Hughes' thoughts on the latest round of fixtures...
Last Updated: 19/02/14 3:35pm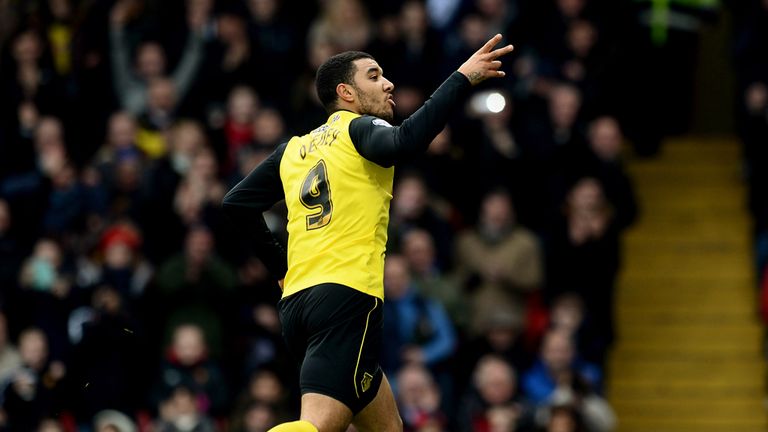 ANDY SAYS: He's come in and done a fantastic job and moving from another country as well, fair play to him. His staff and team are taking on board his new way of playing and what he wants to get across with his philosophy. I've watched them on a few occasions - they went to Man City and were unlucky in the FA Cup, then at Forest they had a great lead the other night and lost it - but he'll be very happy with the way they've responded.
What a good striker Troy Deeney has been over the last couple of years, too. He's had his problems, he went to jail but he's come out as a reformed man and has been brilliant.
Burnley rescue a point at Bournemouth
ANDY SAYS: I think this is a great point for them. Burnley were more than happy with a draw and Sean Dyche was very pleased with the impact sub Keith Treacy had. Dyche has got players coming on and making an impact and that really helps. Everyone made a big deal about Danny Ings and Sam Vokes going back to former club Bournemouth but the other players pulled their finger out.
Orient back on track with point at Preston
ANDY SAYS: Everyone was expecting Leyton Orient to fall away and it just doesn't look like it's happening and I think it's great for the manager and the league. It's making it exciting!
I think Preston manager Simon Grayson will be a little bit disappointed that they dropped two points. Knowing him as I do, he can get teams up especially when you've players like Joe Garner playing for you, who went to Forest where it didn't really work out and has now come back up north and it seems to be working out for him.
Brentford success a credit to Mark Warburton
ANDY SAYS: First and foremost you've got to pay credit to the dressing room, to the senior professionals and the young professionals who are working hard there. They've obviously taken the work ethic that was left by Uwe Rosler and Mark Warburton has been watching from the outside as technical director and it looks like the players are listening to him and wanting to do what he wants them to do. By listening to him they're carrying on and they're winning games, it's 19 unbeaten now and that's testament to Warburton and to the dressing room.
Big club Portsmouth will get through tough times
ANDY SAYS: Portsmouth shouldn't be where they are but they are and you've just got to stick together and get through it. I'm sure under the new manager Richie Barker and Steve Coppell - who's gone in there to help - they will get through it.
They've had a transfer embargo on them this season, so they're going to be wheeling and dealing and working hard now. It's not going to happen overnight, it's going to take time to get that club back to where they want to be but other big clubs have been in that situation and they're just going to have to bear with the manager and get players in there that are going to get them out of that situation.
Gary Alexander instills his style on Fleetwood
ANDY SAYS: Alexander sets high standards for himself and that showed in his playing career - he had such high standards in the way he looked after himself, the way he played and he played such a long time. That respect for him is in the dressing room and they've taken it on board and he's setting standards in the way he wants them to play. I've watched them play on a few occasions and you can see his mentality and his philosophy being pushed on them.
Click here to watch further video highlights from the Football League weekend.