Don't stop believing
Yeovil defender Byron Webster discusses making history, past decisions and future thoughts.
Last Updated: 19/02/14 10:14pm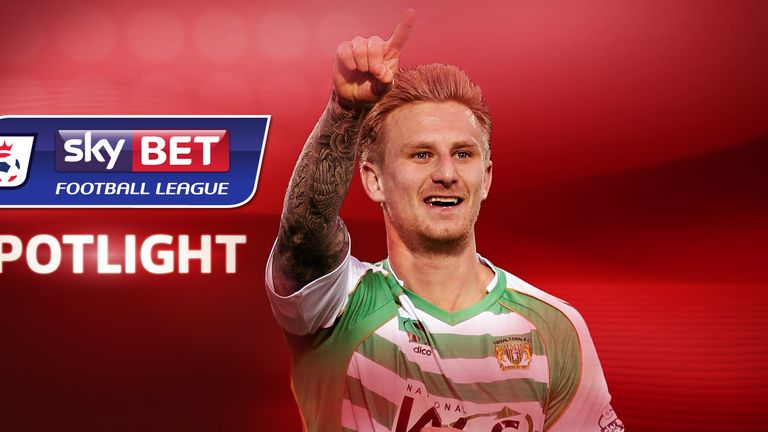 The 2013/14 campaign is now past the halfway stage, with divisions beginning to take shape.
Here at Sky Sports we will look to take you to the very heart of the Sky Bet Football League over the coming months, with our Spotlight features intended to give you a greater insight into the clubs and players that keep us on the edge of our seats.
We hope to bring you the views and thoughts of a representative from each of the 72 teams over the course of the season, with those involved asked to give their take on the division they compete in, the club that pays their wages and those we should all be keeping an eye on.
Yeovil's Byron Webster is next into the hot-seat, with the Glovers defender taking time out to discuss making history, past decisions and future thoughts with Chris Burton.
With the situation as it is, I take it you are all working hard to keep the positivity flowing aren't you?
To be fair, the camp is quite positive. There has only been about three or four games where we haven't showed up and we have been taught a footballing lesson. The rest of the games, it's been the odd goal, which is why everyone is still so positive and upbeat about staying up. We've had QPR down at our place, they only won the game 1-0, so we've played against some big teams and only lost by the odd goal and put good performances in - again, like last night against Watford.
Having Gary Johnson around helps doesn't it - he's a positive guy and has been there and done it, there is nothing he hasn't seen that is going to faze him?
Exactly. And to be fair, he's got two good assistants as well in Terry Skiverton and Darren Way. They all know each other and how each other is feeling. If one person is in a bad mood, the other person is positive, so they bounce off each other well. The gaffer has been there and done it, he's got enough promotions on his CV. But, as he says, if he keeps Yeovil in this league this year, it will probably beat every single promotion that he's had.
And for you, would staying up be your biggest achievement in football?
Yeah, definitely. Last year we were favourites to go down or be flirting with relegation in League One. We defied all of the odds there and got promoted. Again, we're bottom of the league at the minute and I know there are six points in it, but a couple of wins and you pull in a few more teams. We have got some big games coming up at home, we have got Doncaster coming up at home and Barnsley. We have got a mini-league down there, as the gaffer says, and if we pick up a few points against the teams around us, it will make it very interesting.
I take it that as a group you came into the division with your eyes open, you never expected it to be anything other than difficult?
Exactly. Everyone was writing us off before a ball had even been kicked, so the main thing was that we had nothing to lose. I think that is why everyone is still so positive and we're going out there, enjoying our football, grafting our nuts off and if you ask any team that has played against us, they will always say that it's been a hard game. That's the least we can do. We have had some big players, like Wayne Hennessey has come in, Ishmael Miller - which is a big credit to Yeovil as a club. Twelve months ago, 18 months ago, no-one would have thought that we'd have internationals coming to Yeovil on loan. Wayne is a prime example, he's just gone for £3million-plus back to the Premier League. Dan Burn as well, he was with us last year and has been a regular now with Fulham. It's a positive place at the minute Yeovil.
It's a learning curve for all of you isn't it, because you are all making history for the club as you go along?
It's one of those things where you see Dan Burn come in on loan, Shane Duffy come in on loan from Premier League teams and we've come a long way in a short space of time. Why can't we go on to that next level and stay in the league? On personal fronts as individuals, going higher or staying at this level, it's all about learning and progressing. Yeovil as a club have done that and individuals have done that.
Is it a proud achievement for you to have been part of this era in Yeovil Town's history?
Definitely. Like I say, it's been a massive learning curve and a massive pat on the back for the club and for ourselves. Everyone has put a lot of hard work in and we've ridden the wave, as they say. We got promoted last year, enjoyed that, and are enjoying it this year.
There's still all to play for isn't there, you haven't been cast adrift and March looks like it could be a big month - eight games and that could be make or break?
We know that. We have had meetings about that and spoke about that. But every game is for three points and hopefully we'll put the performances in. The performances have been there, but not necessarily the results. I wouldn't mind a horrible performance and a few three pointers. It's now just about getting the results, whether that's by playing pretty or maybe being a bit nasty - not getting the good performances, but getting the results on the table.
For you personally on the future front, your contract is running down so is that just a waiting game now and a case of seeing what happens?
Yeah, it is. If I'm honest, I haven't really spoken to Yeovil about my contract. It's not a thing that's worrying me at all. I don't know if my agent has spoken to them. My dad deals with my agent, so I'm sure that those two know what the situation is. I'm just enjoying my football, concentrating on that and then see what happens afterwards.
You've moved around quite a bit in your career, that happens doesn't it and as a footballer in the modern era you just have to take it as it comes and appreciate that there isn't an awful lot you can do about it?
Exactly. But this is a time where I see it as a bit of a positive. I've stayed injury-free, I've played in quite a few games, so I'm happy. That's why I'm not worrying so much.
You've been abroad as well in your career, over in the Czech Republic with Banik Most, is that something you would advise any young professional to do if they get the chance?
Definitely. For me, when I left to go abroad, I'd lost heart with football. When I was younger it was everything - football, football, football. A manager came in and he knocked my confidence - and confidence is a big thing, any footballer will tell you that, especially at a young age. Like I say, I lost that interest in football and the opportunity came to go abroad, I took it because I had nothing to lose and it really reignited my love for football. Since then I went to Doncaster, had a few injuries but still enjoyed my time there and got a few games in the Championship. Then I went to Northampton and, obviously, to Yeovil. There have been ups and downs, but the ups are the good times and you like to ride those waves as long as possible.
I take it you now see your future in England, and preferably in the Championship?
Yeah, definitely. I won't be looking abroad, it will definitely be trying to stay in the Championship.
Byron Webster was talking to Sky Sports on behalf of Sky Bet, the Title Sponsor of The Football League.
For a wide range of match odds and specials on all Football League matches and a £5 free bet every week, go to skybet.com.