FL72 Weekly: Danny Collins out to help Nottingham Forest end poor run
David Prutton, Danny Collins and Sheffield United manager Nigel Clough are all on this week's show.
Last Updated: 21/03/14 12:21pm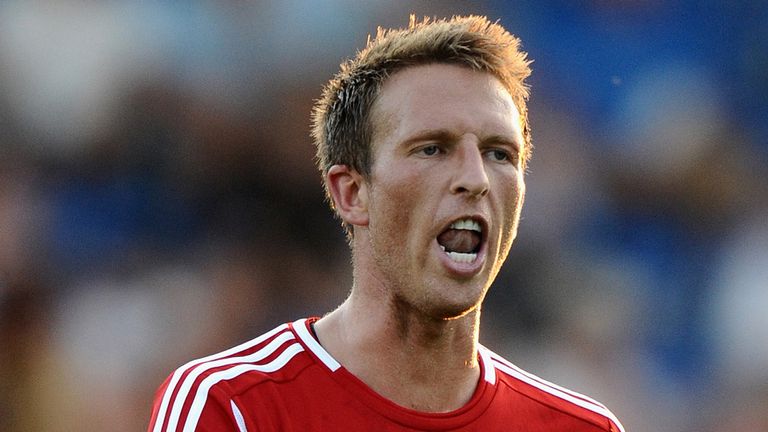 Sixth-placed Forest have gone six Sky Bet Championship games without a win and are now only a point clear of both Reading and Derby in the race for play-off spots.
Despite their recent form, Collins insists Billy Davies' side are relishing the opportunity to put things right at the iPro Stadium on Saturday.
He told the latest FL72 Weekly show on Sky Sports News Radio: "We're looking forward to it as a group. We come off the back of a poor run, but Derby themselves have struggled themselves the last few games so both teams are after a bit of form.
"We've got to look after ourselves. It's getting tight in and around the play-off spots and we need a win quick.
"We had that great run of 14 games unbeaten, confidence was high, then suddenly you lose one or two games and the confidence comes out of the team.
"We don't want to make excuses but we've one or two injuries in key positions at the wrong time. There's never a great time to have injuries but coming to the business end of the season we picked up one or two - and to key players who've done well for us.
"Probably as a result of that we've dipped a bit, but we have got a deep squad. Lads have come in and it's time as a group now to stand up and be counted."
Amenable
Davies has been refusing to conduct any media interviews during his five-match touchline ban for clashing with referee Anthony Taylor, which expires after next Tuesday's game against Charlton.
And former Forest midfielder David Prutton believes the 49-year-old will have created a siege mentality at The City Ground.
Prutton said: "Maybe you don't do yourself any favours by refusing to speak to people, but I'm sure Billy has got his points that he's got to make and his guns that he's got to stick to.
"Sometimes when it's like that the siege mentality takes over and I'm sure he'll be using that to fire his team up.
"The last few weeks have obviously not gone as well as they would have hoped - a couple of months back, they were cantering along.
"But for any club in this division, no matter what kind of players you've got, there's always going to be that kind of fallow period in the season.
"But I suppose you can always help yourself by being as amenable and as accessible as you possibly can be."
Platform
Sheffield United manager Nigel Clough, meanwhile, spoke to FL72 Weekly of his pride at the club's recent winning run, which has seen them progress to the last four of the FA Cup and the outskirts of the Sky Bet League 1 play-off positions.
Clough said: "I'm extremely proud, and the players are as well, of the 10 straight wins we've had. Even the 0-0 the other night - I think we've had eight clean sheets on the spin which is a club record.
"We're celebrating our 125th anniversary as a club this year and it's great to break a couple of records."
Clough reveals that making the team harder to beat has been the key to their revival after a disappointing start to the season led to the sacking of David Weir.
He added: "The first thing (we had to do) is work a bit harder on the pitch, for each other as well, and the team have done that generally speaking and become a bit harder to beat.
"We had to have a platform to build on, you need a starting point so it was a case of saying 'let's go out and get a couple of 0-0s, a couple of draws, then we'll go on and get victories from there.'
"There have been some very good performances in that time, and different sorts of performances. It is lovely when you're keeping clean sheets and the opposition are finding it so difficult to score against us.
"But it might all change on Saturday with Wolves coming to town, top of the league. It'll be a good measure for us."
Opportunity
Guy Branston also speaks on the show about what the future may hold for him after he left Plymouth Argyle last week.
He said: "There's nervous excitement if anything. Obviously my career is at stake now, but I don't worry about it too much because I know how to go and get a new club and how to talk to people in the football environment.
"I'm also looking to other things I'm interested in, like the media work and also management and coaching, so it gives me a little extra time to look at that and also get myself fit, which is important.
"I need those extra couple of weeks off to get myself fit so I can have a restful summer for a new season if I do take up an opportunity that arises."
To hear more from Prutton about Forest, Sheffield United and his current club, Sheffield Wednesday, plus extended interviews with Collins, Clough and Branston, download the full FL72 Weekly Podcast or listen via the Soundcloud player below.