Nerves of Steele
As part of Sky Sports' Sky Bet Championship spotlight, Chris Burton catches up with Barnsley goalkeeper Luke Steele.
Last Updated: 28/03/14 4:47pm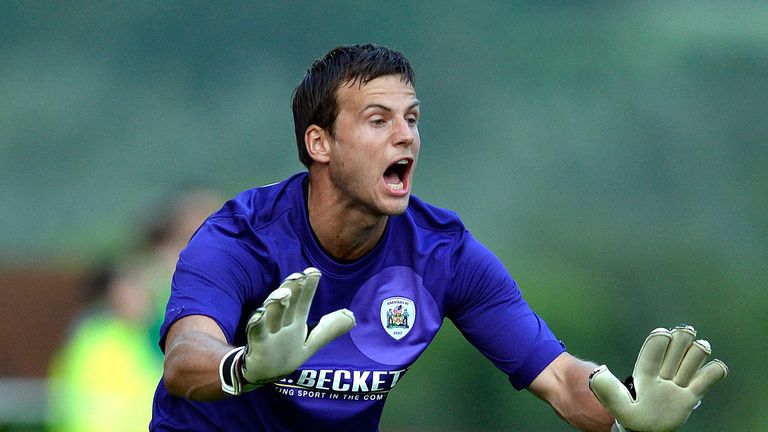 The 2013/14 campaign is now entering the final straight, with divisions beginning to take shape.
Here at Sky Sports, we will look to take you to the very heart of the Sky Bet Football League over the coming months, with our Spotlight features intended to give you a greater insight into the clubs and players that keep us on the edge of our seats.
We hope to bring you the views and thoughts of a representative from each of the 72 teams over the course of the season, with those involved asked to give their take on the division they compete in, the club that pays their wages and those we should all be keeping an eye on.
Barnsley's Luke Steele is next into the hot-seat, with the Tykes goalkeeper taking time out to discuss survival scraps and the value of experience with Chris Burton.
You got a huge result on Tuesday at Reading didn't you - one that must have lifted the whole place?
Definitely. We're into the crunch part of the season now where it's the business end. We lost a late goal on Saturday against Bournemouth, which hurt a lot and you could tell that people were writing us off and saying that was going to be the end of us. We showed great spirit and character to go to Reading, where even more people were writing us off, and got a good win. It wasn't a lucky win, it was a convincing victory where we probably played our best game of the season. It's given everyone a massive lift and hopefully we can carry it on into the next few.
It's important that the away form improves isn't it, because it's been pretty bad?
It's been pretty abysmal this year. Our home form in 2014 has actually been good, I think we have lost two and we've managed a few wins and clean sheets. But away from home, we've been struggling and haven't been scoring many. To get a victory at Reading, who are obviously in the play-offs and fighting for top six, it's a great lift for everybody. But, like I said, we played some really good football and deserved it. This is a big relegation fight that we're in and three points at the moment are vital. Hopefully this is a platform that we can build on.
It can't be a result in isolation can it - your last two wins have been against Reading and Forest, so you've shown what you're capable of?
Exactly. I don't think there are many places, you can't look at fixtures now and say, 'That's a guaranteed win for a certain team'. Everybody can beat everybody in this league and we're no different to that, even though we are second from bottom. We've beaten some top teams this year and got some good results, but also we have lost to a few of the poorer sides who are in and around us. You can't call anything. Like I said, we're in the business end of the season now with nine games to go and everyone is a tough game, no matter who you are playing. Results like Reading away and Forest at home can restore that belief, inner belief. You can be told a thousand times that you're a good team, but you need that inner belief to know you can play good football and you can beat teams.
They are all tough games, but Yeovil on Saturday is massive isn't it?
Yeah. I think everybody has been looking at the Yeovil game for a few weeks now. They knew that we were going to be down there and that Yeovil were going to be down there. They have done tremendously to get the points they have as well. They are hungry players who have come up from League One and they want to stay here. We're in a very similar position, joint on points with them now, so this is a huge game. This is a six-pointer, everybody knows that, and it's an interesting one. The team that could lose the fixture, I wouldn't rule them out by all means, but it is a huge game going forward because it gets you away from one of your rivals down in that bottom part of the table and ultimately could be three points that pushes you closer to that 21st position - which is where everyone wants to be.
With nine games left, are you setting yourselves any targets - are you thinking you might need three or four more wins?
I must have gone through it in my head a thousand times. Every year I have been here it's been different, the points tally. It's been low 40s, and last year it was mid-50s that kept you up. This year, I don't think it's going to be as high as that, but certainly there is going to be nobody out of it with five games to go. Even if you were to lose three on the bounce, I still wouldn't say you are out of it because you are dragging teams like Doncaster and Blackpool back into the mix. Charlton are still right down there with games in hand, so there is loads and loads to play for. But I think this weekend is a huge match. A lot of us haven't played at Yeovil because they haven't been in this league, but they are a confident set-up this year and it will be an interesting game.
Does the fact that you, as a club, have been in this situation before work in your favour?
I think so. I have probably had seven relegation battles. Every year that I've been here we've had a relegation battle. Each one has been slightly different in the manner of needing more points and the way teams are playing, but I think it definitely helps to have that experience. After the game on Saturday, there were plenty of us saying to each other, 'Look, this isn't the end, this is just one bad result and there are lots of points still to play for'. There were still 30 points to play for before the Reading game. A couple of wins gets us right back in it, and that's how we went about our business on Tuesday. I think that is quite handy to have, because on Tuesday there were five or six players in our starting XI who were here last year, so they all know that it's possible and they all know that a few good wins can lift you right up that table.
You do like to keep things interesting, but does the fact that you are written off pretty much every year act as added motivation?
I'm not sure, it's a strange one. Some people act well to it because there is no pressure. To be honest, we've never had a great start to the season so maybe we could do with putting ourselves under more pressure at the beginning. But at the minute, we always keep ourselves in with a chance and pick up points every year to put ourselves in a position like we are now to keep ourselves within touching distance. We've never fallen away and made it impossible come January. Although it hasn't been a great season for us at all, we're still in with a shout. People like to write us off early doors, and that's the way it is at Barnsley with the wage structure and the size of the club, but we think bigger than that, we think we deserve to be in this league. We've always managed to stay in it and this year it is even more important than any. We want to be Championship players next year, especially those who have got contracts at the club for next season - they are dying to stay in this league.

Consolidation is what you all want and you're all ambitious, but is staying in the division an achievement in itself for Barnsley?
Yeah, it's a massive one. People always say about that you should be pushing for play-offs and dream high - we do, we all want to play in the Premier League and get promoted and win things, but you have to sometimes look at the cards you have got and see how well you can do. Many teams, like Leicester, they will probably look at the last few seasons as a failure because they've got a huge budget and they haven't been achieving what they're supposed to achieve, which is getting to the Premier League. Obviously this year it looks like it is going to be different, but automatically when you look at Barnsley's structure and wages, it's considerably lower than most teams in the Championship each season. Just to stay in the league is a massive thing, especially year in, year out for the last seven, eight years. That's a huge achievement, especially bearing in mind the clubs that have gone down - Leicester, Leeds and people like that. We're proud of that. Even though people get frustrated with being in a relegation fight, I think it's a huge achievement. What we have achieved in the last few years in terms of results and the position we have been in, I am sure people would rather stay in the league than go down and come back up again.
And the club is doing alright isn't it, bringing in the likes of Frimpong and Proschwitz - Premier League players?
They are obviously players that have played a little bit higher. Frimpong is obviously a player who hasn't quite made it at Arsenal and we try to - not take gambles - but we try to find players who have a bit of bad luck or have been down with injuries. These are players with quality and they bring that to our first team. Getting the mixture right this year has been hard, we had a lot join in January - like the few mentioned - but at the moment we feel like we are close to getting it right and there is a lot of good things going on.
On a personal level, how are you looking at the season - frustrating with the injury early on?
I had a stress fracture in my back, I was injured for three months. The injury was obviously a hard one and it was very frustrating not playing. I wanted the team to win because I knew that when I got back fit I would be close to getting back in the team. I knew I'd have to work hard to get back in the team, but it was a case of watching us lose most weeks, and that can be frustrating. But, for me personally, I've had an average season. I wouldn't say I have performed as well as I have in previous years, but in the last few months I've come close to that. I think the injury did set me back quite a bit and hopefully I can keep this up between now and the end of the season and put in some good performances and then kick on again next year. Every player has to deal with injuries, and I'm no different. I was probably due one after going a few years without, but as long as everything has healed up now then I can get back on track.
It must have been nice to have that stability of knowing you had signed the new contract last summer - you weren't having to worry about your future?
Yeah, I got that sorted in the summer and I'll be here for another year through to 2015. It's still a great place to be, it's a well-run club with some very good people. They have started to freshen the place up in the last 10 months and I think it will come good eventually, even though this year hasn't been great. I'm happy to be here next year again.