FL72 Review: Garry Birtles reflects on the Football League weekend
Every Monday night, the Sky Sports experts will review the weekend's Football League action on FL72. Check out Garry Birtles' thoughts on the latest round of fixtures...
Last Updated: 03/04/14 6:16pm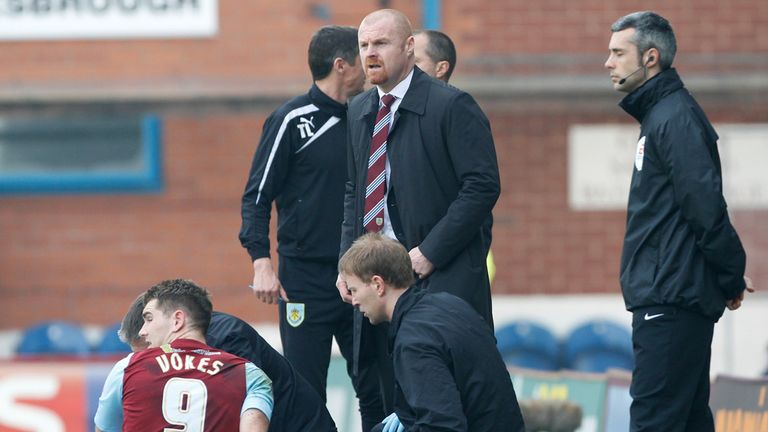 Leicester on the brink after Burnley win
GARRY SAYS:
  It could be over very soon and you have to say Leicester deserve it. They've been out there as front runners most of the season. Last season we all know they blew up and blew it big time. That's not going to happen this time; they've got too much quality in the side, too many players in form and too many goals from all over the pitch. David Nugent scored the first on Saturday and he is a class act. His goal was an absolute stunner for me. His composure, to place it where he did with his so called weaker foot – I'd love a weaker foot like that!
Burnley must regroup after Sam Vokes' cruciate injury
GARRY SAYS:
 It was so innocuous but how many times do you see really bad injuries start like that. Vokes must have feared then that he's got a big problem and now their top two scorers are out. People have been asking me all season can Burnley stay there and the answer has always been 'if they can keep Danny Ings and Vokes fit they've got a big chance'. The fixtures are reasonably tough and after Ings and Vokes – who have got 40 goals out of Burnley's 64 – Scott Arfield is the next highest scorer with six, which just shows how important those two players have been to them this season. They've got a bit of a cushion and a couple of wins would probably see them home but we know how nervous players get at the end of the season when things like that are up for grabs. They're within touching distance of the Premier League but how will the rest of the team respond? That could be pivitol for the rest of the season. Sean Dyche has got a big job on his hands to convince the players that they've still got a massive opportunity.
Wolves have taken control of the League One title race 
GARRY SAYS: Wolves look in pole position without a doubt. It wasn't so earlier in the season Leyton Orient were up there and Brentford have been relentless keeping that pressure on but the top two is Wolves' to throw away now. Wolves were one of the favourites at the start of the season – they've got a good squad, a good manager – and they're proving their point that they were right to be one of the favourites. Brentford drew 0-0 at Oldham and I think it's a cracking point. Any point you get at this stage of this season when the stakes are down, is a good point. Oldham haven't been in poor form, they're a difficult side to beat, but if you win your home games, get a point away that's what you have to do. They're keeping the pressure on and keeping everyone else at bay, which is the important thing really. Orient have taken just two points out of a possible but Russell Slade doesn't deserve any criticism whatsoever. They've been absolutely magnificent. He's not got a big squad and what he's done is superb. They've been up there most of the season, they're going to get into the play-offs – and who knows what the play-offs will bring for them. 
Eastwood is firing Southend back into form 
GARRY SAYS: In every league, now is the time to make a statement. If Southend can continue, they've got a very experienced manager who has been in situations like this and that's important at times like this. We all know about Freddy Eastwood – he's a poacher. He's always on the spot, he gets in positions others don't and he just needs a run of games. You get players like that who are very gifted – and in terms of penalty box players he's one of the best. 
Portsmouth's win at Newport could be vital
GARRY SAYS: We've learnt this season - don't sack your managers too hastily, get a bit of stability and continuity that Portsmouth haven't had. But this win could be massive for them. They've been slipping down the table and all the off-field hinderances haven't helped – but it's about the players now. If they can get another two wins on the board it looks like they'll be safe. Torquay look out of it and Northampton still have a chance. It was the right decision to give the caretaker job to Andy Awford because he knows how Portsmouth ticks, what the players like and don't like, the training methods... He doesn't need to change any of that but just lift the players and make it a nice place to go into work in a morning. If you enjoy going into training you'll take that out on a Saturday afternoon. If you don't like going in you won't enjoy going out on a Saturday. It sounds basic but it's so true. We've seen the number of teams that have gone out of the Football League and found it a struggle to get back in. It's not that easy. 
Click here to watch further video highlights from the Football League weekend.