FL72 Review: Peter Beagrie reflects on the Football League weekend
Every Monday night, the Sky Sports experts will review the weekend's Football League action on FL72. Check out Peter Beagrie's thoughts on the latest round of fixtures...
Last Updated: 09/04/14 6:34pm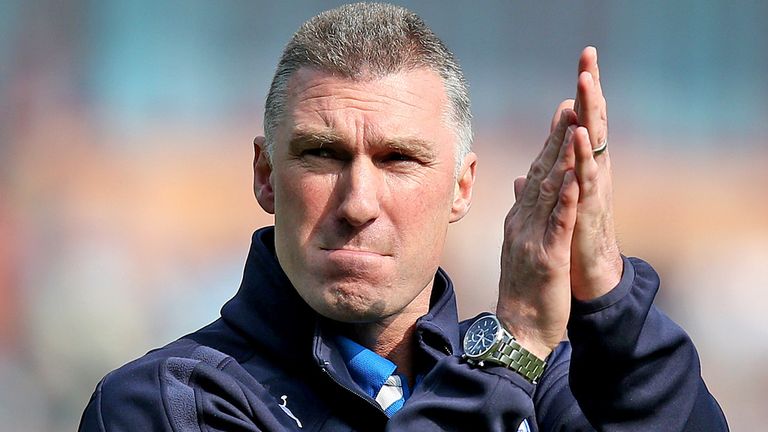 PETER SAYS: Leicester have done it in style- they have been absolutely fantastic this year. They epitomise the word team with options all over the pitch. They have built on what they had last year and it has been outstanding for them. Their manager has been more relaxed; Wasilewski and Mahrez in particular have been welcome additions. They have played at a higher tempo and there is a greater strength of resolve. I think they have also benefited from the pressure being off them a bit because all the focus has been on the three teams who have come down.
Dyche up for manager of the year?
PETER SAYS: As good as Leicester have been, if Burnley go up then Sean Dyche should be manager of the year - and the first person to vote for him would be Leicester boss Nigel Pearson. It is like a mutual appreciation society, two British managers who realise how tough a job they have. To go behind against Watford; the strength and resolve before they equalised with people clearing off the line and crashing into posts, well that is everything that embodies the spirit and the camaraderie that they have had to have this season.
Wigan spirit shines through against Leeds
PETER SAYS: No one will want to face Wigan. They have come through adversity but they have recruited well and manager Uwe Rosler has freshened things up lately and rotated. It is all about continuing that momentum. They have played better and Rosler was a bit disappointed because he wanted to put on a real show in front of the Sky cameras, but put the three points in your pocket, it is all about getting the result. This win will galvanise the squad for a run into good form going into the play-offs.
Massive win for Reading
PETER SAYS: This was a big result for them particularly off the last couple of results Charlton have had. Garath McCleary for me has been their outstanding player of the season. They have been without key players throughout the season and that has really debilitated them. They have got some of them back and it was a massive result - they needed that win to stop the gap from closing.
Wolves and Brentford won't stumble now
PETER SAYS: Wolverhampton are playing well at home, the manager called for it a few weeks ago when he said let's get back to our best; let's play with a little bit of pomp as well. They are on a tremendous run. With the amount of talent they have in the side, they can play in various ways. Wolves and Brentford are at the top and I see no reason why, after being so consistent, they should lose a few games on the spin. I think the depth of their squads gives them enough armoury. Rotherham have been amazing; they are the team to avoid in the play-offs if they don't get the automatic promotion.
Cheltenham choking?
PETER SAYS: Cheltenham have lost 31 points from winning or drawing positions this season - the most in the whole country, which probably explains why their manager said he cannot wait for the season to end. It is so frustrating because you are looking at your team and your set-up and see what they have done at the beginning of the season. All of a sudden it capitulates - it could be because one or two players are injured or lacking form.