FL72 Review: Andy Hinchcliffe reflects on the Football League weekend
Every Monday night, the Sky Sports experts will review the weekend's Football League action on FL72. Check out Andy Hinchcliffe's thoughts on the latest round of fixtures...
Last Updated: 27/04/14 3:47pm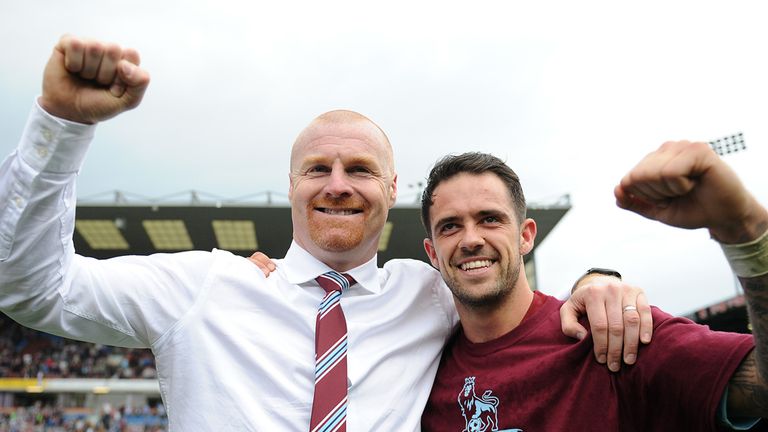 ANDY SAYS: Sean Dyche would have said to his players 'if we stick together we've got a chance here'. Sean has gone for quality rather than quantity - look at Leicester, QPR and Derby who have all got big squads. Burnley have got a small squad but one of real quality. Sean has managed those 25 players really well between games - so he's pretty much putting 10 of his best 11 players out and that consistency of selection has been vital for them. Sean didn't really have the money to go out and buy five or six players but he didn't need to. He signed Ashley Barnes, brought Michael Kightly on loan - he was very careful about who he brought in and it has worked really well.
Brazil could still go even if Forest make the play-offs
ANDY SAYS: I doubt whether either Brian McDermott or Gary Brazil will be at their respective clubs next season. Brian is a very honourable man and a very good manager but this is such a turbulent time at Leeds that, now the takeover has been completed, I can see him leaving his job in the summer. Meanwhile, Gary Brazil could get Forest into the play-off places and could get the side promoted - and then he could just be brushed aside for Stuart Pearce to take over. Forest looked a completely different team against Leeds and now they are in with a real chance of the play-offs.
QPR can't afford for Austin to have any more away days
ANDY SAYS: Charlie Austin's return is all-important for QPR. They've got a couple of games left and he needs to play probably at least an hour in each of those games. I'd go as far as to say that if Charlie Austin doesn't play for QPR I don't seem them getting promoted because the play-offs will be tightly contested and you need your key men back in the side - and Austin is so, so important to them. Harry Redknapp has got so many players to pick from that he can chop and change - but he also knows that he's got six or seven key players who are vital - but you need a main goal-scorer and Charlie Austin is that for QPR.
Wolves will be a threat in the Championship
ANDY SAYS: You can see why Kenny Jackett was given the job there; the first thing he had to do was put the handbrake on and stop the slide. The players have played well, don't get me wrong, and they deserve to get promoted but it is all about Kenny and how he approached the job there. He was absolutely the right man for the job and they thoroughly deserve to go up into the Championship and watch out for them. It will be interesting to see who they sign in the summer but they will certainly challenge in the Championship next season - and what an amazing turnaround that is.
Southend's fifth win in six and York's dramatic rise
ANDY SAYS: Winning that first game, like with Forest, can very quickly turn your fortunes around. One win can lead to two or three and you are back in the mix. I thought Southend had blown it with that very poor run but they've managed to turn it around just at the right time. Phil Brown probably knew that they are a much better team than the form table said and those performances implied and it has been proved; he's kept a level head and they've got a chance of making that play-offs and that would have always been the plan for Southend. York's run is nothing short of astonishing. Nigel Worthington is a very experienced manager but the run they've put together, to climb from the bottom six to the play-off places, can happen. This is what is great about the Football League. They are going to be a force to be reckoned with because I think they will make the play-offs and I don't think any team will want to play York.