FL72 Review: Andy Hinchcliffe reflects on final Football League weekend
Every Monday night, the Sky Sports experts have been reviewing the weekend's Football League action on FL72. Check out Andy Hinchcliffe's thoughts on the final round of fixtures...
Last Updated: 11/05/14 7:49pm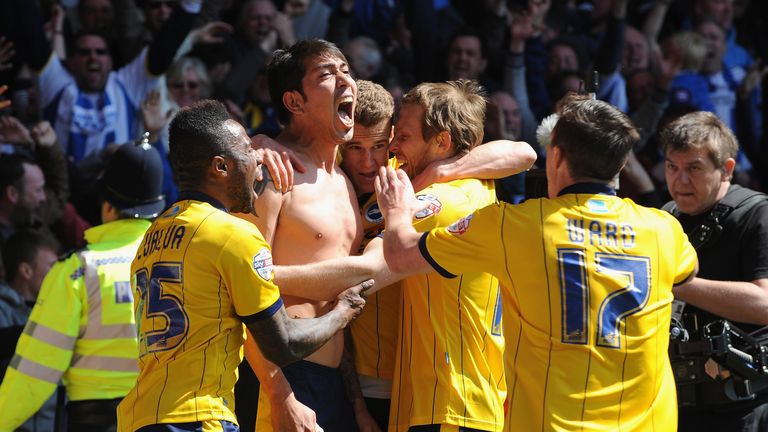 ANDY SAYS: It's going to be tight. I think Brighton and QPR are a bit more defensive-minded, while Wigan and Derby like to play on the front foot. I do think Derby will make it and I think QPR will get there as well, but it's going to be tight. It's been tight all season long, but Derby are really a form side, a very attractive side and I fancy them to get to Wembley and get to the Premier League. I have to go for them, purely for the fact I've seen them play five or six times this season and the squad is great, the system they play is great and they keep it simple. There's just a great belief since Steve McClaren went there. He's turned them around.
It was fitting for Craig Mackail-Smith to create the goal that took Brighton to the play-offs
ANDY SAYS: Brighton had one of those days. It was laboured and very nervy, probably understandably, but the story of the goal for me is Craig Mackail-Smith. He has had a horrible season with injuries, but the cross is absolutely inch perfect and Leo Ulloa - at 6ft4ins - is not going to miss from two yards out. It doesn't get any better than that for a centre-forward. What a story, coming off the bench and setting the winning goal up. Brighton are in a decent run of form, that's eight games unbeaten now and they maybe deserve to get up there into sixth. It is all now about the play-offs and possibly the Premier League.
Birmingham's injury-time escape act took all the pressure off Lee Clark's shoulders
ANDY SAYS: Financially, it's absolutely massive for Birmingham. There's major problems with the ownership and what's happening off the field and that's certainly had an effect with what's happening on it. You've got to feel for Lee Clark and I'm so pleased for him because he's had the weight of that club on his shoulders. He has felt the fans' pain and the players' pain and took it all on his own shoulders. His reaction at the end of the game showed you what it meant to him. It's been a difficult six weeks for him.
Peterborough can defy the odds to win the League One play-offs
ANDY SAYS: It's going to be very tight, but it's going to be the most exciting of the play-offs in my opinion. I think we've got four managers who like to play forward-thinking football and all of the sides have top goalscorers in their ranks. I've got a feeling for Peterborough with Darren Ferguson - on their day they can beat anybody. You look at Preston and Rotherham as the most consistent sides and Leyton Orient have been fantastic all season long as well, but even though Peterborough were 11 points behind Preston in fifth I do fancy Darren Ferguson's team, I really do.
Relegation out of the league is a "disaster" for Bristol Rovers at this time
ANDY SAYS: With a new stadium on the horizon it's the last thing you want. Of course it's the last thing you want, but especially at this time for Bristol Rovers. It was just the perfect storm and everything went wrong against Mansfield. They beat Wycombe in their last game and I wonder if they thought the job was done and they'd done enough to stay up. Did they relax a little bit too much? It's hard to say, but you could see by the reactions of the manager and players that it's a disaster. The owners have said 'we've made mistakes' and they need to sort it out quickly and get back into the Football League next season.
York have sneaked into the League Two play-offs - and now they can go on and get promoted!
ANDY SAYS: I fancy Southend and York to get to the final. Burton played Southend in the last league game and Southend won so they will take that into the semi-final. I have got a sneaky feeling for Southend and York at Wembley. You naturally look at Fleetwood, the team that finished fourth and they have been the most consistent during the course of the season, but the play-offs are nothing like the regular season, we know that. It's going to be really tight, but I do have a sneaky feeling for York just creeping in there in seventh spot. Who can cope with the play-off pressure? That's what it's all about.