Vintage Claret
It has been quite a year for Danny Ings and Burnley. Sky Sports catches up with the striker to reflect on a memorable campaign that saw his 26 goals play an integral part in the club's ascent to the Premier League
Last Updated: 12/05/14 12:22pm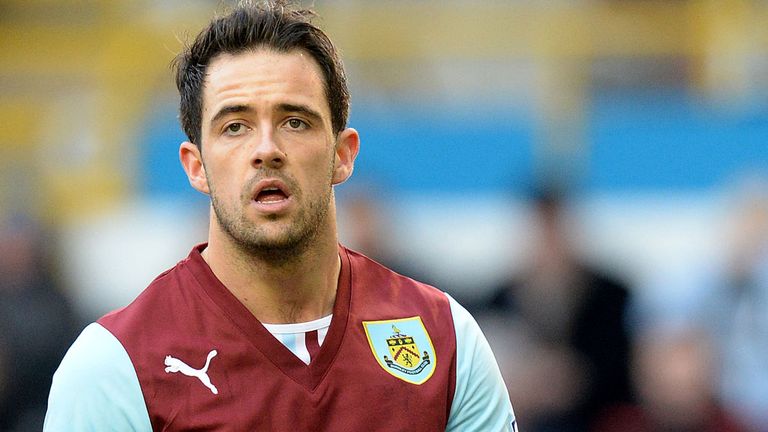 Highly-rated forward Danny Ings was instrumental in helping Burnley confound the critics who tipped them for relegation from the Championship, rising to the unlikely heights of winning promotion to the Premier League.
The 21-year-old, who is widely regarded as one of the most exciting prospects in the country, was recognised for his efforts this season by being named Championship Player of the Year at the Football League Awards and also being selected in the Professional Footballers' Association Championship Team of the Year.
Ings also won his first call-up to the England Under 21s this season and he is being tipped for make the step up to the senior squad in the near future.
The former Bournemouth youngster has taken everything he has achieved this season in his stride and believes there is still more to come in the future after seeing his first two seasons at Burnley held up by injuries.
"It has been a crazy and a perfect season for me personally and the team," Ings told Sky Sports.
"To come back from the two injuries I had before shows what a little bit of hard work can do for you.
"I never set myself any targets. I just go in every day to training and games and try to be the best player I can be.
"I definitely think there is more to come from me as I am still only 21 and I have years and years to learn and develop. I will only get better in my opinion by playing against the best players in the Premier League.
"It is a bonus for me to win these awards and win promotion to the Premier League, but it is a real team effort at Burnley and that is what has got us from where we were to where we are now."
Future
Unsurprisingly, Ings' stellar performances this season have not gone unnoticed by a host of the Premier League big guns and with the striker entering the final year of his contract, Burnley could find themselves in an almighty battle to keep hold their prize asset's services this summer.
Ings, who scored 26 goals in all competitions this season, admits he is flattered by the speculation linking him with the likes of Liverpool, but that he is happy at Burnley until he is told otherwise.
"Of course it is flattering to be linked with other clubs and I have seen some of the stuff in the papers and on Twitter, but I try and stay focused on what I am doing," noted Ings.
"For every young player it is a dream to play in the Premier League and it gives you confidence to be linked with some big clubs.
"You never know what is going to happen in football, but as it stands I am contracted at Burnley for another year and I am happy and looking forward to playing in the Premier League next season.
"It is a dream come true for me and my family to see me play in the Premier League and I cannot wait to play against some of the best players in the world and some of the biggest clubs around."
Ings puts Burnley's success down to hard work and a real team ethic and he is confident they can upset the odds in the Premier League just like they did in the Championship this season.
"I think at the start of the season we were fourth favourites to go down so it is really pleasing to prove people wrong and there is no reason why we cannot do the same in the Premier League.
"The key to our success has been the structure of the team - we have quite a small squad, but we all know what our roles are in the team.
"There are no egos in the squad and it is all down to hard work."
The likes of Brendan Rodgers, Manuel Pellegrini and Tony Pulis have all been mentioned as possible contenders for Manager of the Season, but Ings believes there is no-one more worthy of the award than Burnley boss Sean Dyche.
"He [Dyche] has got to get it for what he has done this season," said Ings. "It is unbelievable what he has achieved on such a small budget for Burnley.
"The signings he has made, with so little money, have been perfect and he deserves recognition for all the hard work he has done at the club."
While most players are winding down after a long, hard season Ings is preparing himself for international duty with England's Under 21s, before embarking on a well-deserved holiday, and the skilful forward admits he would not have any other way.
"It is an honour to play for my country and if I am selected for the game against Wales I will be ready," said Ings.
"It is a big game as it is a qualifier and it is away from home. Any game with Wales is always a big occasion.
"After that I have a couple of holidays planned and it will be probably then, when I think back on the season, that what I have achieved will finally sink in."