QPR match-winner Charlie Austin sets up Wembley's 'perfect script', says Steve McClaren
Steve McClaren is relishing the chance to face QPR at Wembley - but says Charlie Austin is key.
Last Updated: 14/05/14 8:41am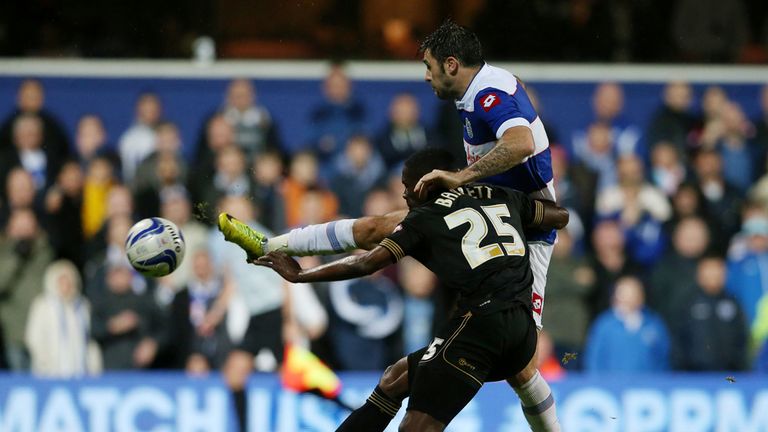 The Derby boss - who will lead his side out against the Hoops in the Championship play-off final - was first team coach at Loftus Road at the start of this season and had plenty of praise for his former players after watching them fight back from a goal down in Monday's second leg to beat Uwe Rosler's Wigan Athletic 2-1 in extra-time.
Former England boss McClaren told Sky Sports Rangers' success is down to their talented squad working together with the right ethic, including mercurial midfielder Joey Barton.
"They've got great individual players and everyone comments on that," he said.
"I worked with these payers for three months and they're terrific together, have a great attitude, great work rate and a good spirit in the dressing room. If you don't have that you don't finish in the top six.
"What they've done over the last two games with Wigan is come together as a real team and got their know-how together; they know how to win and Joey [Barton] has been a big, big part of that.
"I remember Joey coming back in to the fold, after nearly going to Marseille, and then really being the catalyst for this team exploding."
Charlie Austin scored both Rangers goals and McClaren says, had the former Burnley striker avoided injury between February and April, then Harry Redknapp's team could have secured automatic promotion.
"Charlie Austin is the one who wins them football matches and they've missed that; if he'd have been there all year they'd have been challenging in the top two.
"They're a solid team, they defend very well, they've got good defenders and know how to win but you need a good goal scorer in your team if you're going to go up and he's perfect for them.
"He's come back at the right moment and he's quite right...it's a team effort.
"I think what they [Wigan] lacked was that striker. Even near the end that one that could put the ball in the back of the net like Charlie Austin and sometimes that's the difference. It was tonight."
Wembley
QPR will play McClaren's Derby County, who beat Brighton 6-2 on aggregate, on Saturday May 24 at Wembley to find out who wins the richest prize in English football and joins Leicester and Burnley in the Premier League next season.
"You couldn't write the script better. We're looking forward to it," said McClaren.
"We've got a kind of innocence going in to it. I hope we handle the occasion well, if we do that we'll give them a very good game.
"All of these [QPR] players know Wembley, all of these players know big games; that's why they've got through tonight. Our players have innocently got through to this stage.
"Thursday at the Amex they didn't quite handle the experience but yesterday [Sunday] they were fantastic; have grown in character and it will be a good battle.
"This is such an emotional game and when you win it's so emotional, you can't get carried away. Charlie Austin said it perfectly: 'We've got to get our feet back on to the ground and concentrate and focus,' because there's one more game to go and it's the biggest one of the lot."
Who do you think will win at Wembley? And how will they cope in the Premier League next season? Let us know your views by commentating below.