Forest fire
Nottingham Forest's Ben Osborn reflects on his breakthrough season and looks forward to the next.
Last Updated: 30/05/14 2:51pm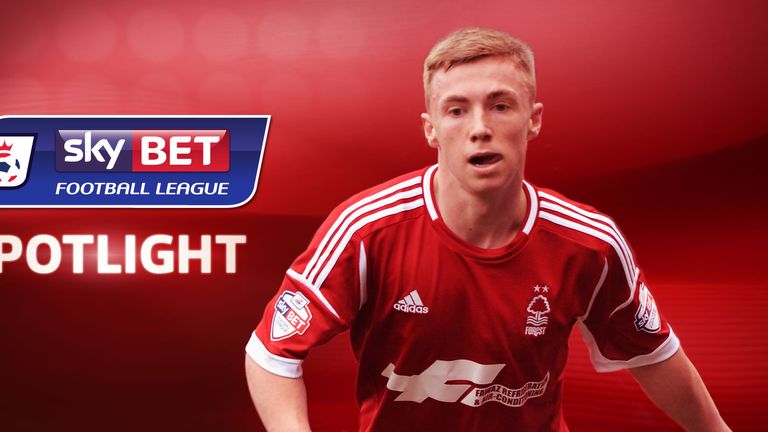 The 2013/14 campaign has now come to a close, with promotion and relegation issues wrapped up.
Here at Sky Sports, we have endeavoured to take you to the very heart of the Sky Bet Football League over recent months, with our Spotlight features intended to give you a greater insight into the clubs and players that keep us on the edge of our seats.
We have looked to bring you the views and thoughts of a representative from each of the 72 teams over the course of the season, with those involved asked to give their take on the division they compete in, the club that pays their wages and those we should all be keeping an eye on.
Nottingham Forest's Ben Osborn is last into the hot-seat, with the Reds midfielder taking time out to reflect on his breakthrough season and look forward to a potentially exciting one with Chris Burton.
How are you looking back on the season on a personal level - did the breakthrough come sooner than you expected?
I was on the bench a few times under Billy Davies, six or seven times without playing. To then be thrown in at the start straight away, that did come a little quicker than I thought to be fair.
As soon as Gary Brazil came in, did you think that there might be a chance because he knew you so well from the academy set-up?
I did. Then in the first game that he took over, I wasn't even on the bench. We lost against Charlton and then the next game he told me that he would starting me. I played quite well and after that I knew I would have a good chance of carrying on in the team.
So you had a bit of notice ahead of the Ipswich game, you weren't thrown in at the deep end? Were there any nerves?
He told me on the Friday that I was definitely starting. The day before there were a few nerves, but on the day I was fine.
Do you feel that the grounding you get at Forest helps to make the step up easier, with there so much emphasis placed on the production of home-grown talent and making sure you are ready?
Yes, I think so. It's a fantastic youth policy here. Obviously you have got to make sure that you are right with your performances. Other clubs don't have the youngsters training with the first team, but here you do and once you do that, that's a big step up. Your focus then is to step up again.
It must be encouraging to see the likes of Karl Darlow and Jamaal Lascelles playing regularly, it proves that the club are prepared to offer those opportunities doesn't it?
Definitely. Especially Jamaal, he's had a really great season and has come on leaps and bounds. Everyone who is in the U21s all look up to them.
What are the biggest differences when you make it into senior football?
It's more competitive, more disciplined and a lot faster. There is more riding on it, so you know that you if give the ball away they could make something of it. From the U21s, there is just so much more riding on it.
And it must be nice to play in front of big crowds as well, another big difference from the youth ranks?
That was something I had been looking forward to all season, playing in front of a crowd. I was trying to get out on loan and there were a clubs interested. But I was getting in and around the first team at Forest and it was great to get out in front of a crowd. It helps a lot, especially with the Forest fans at home, and the away support is tremendous. I have been able to play in quite a few away games.
It's a big summer now, though, isn't it for everyone - you're looking to remain part of the plans and everyone else has to impress a new manager?
Yes, and there is no better manager that Stuart Pearce really for young English talent. I'm looking forward to playing under him. That will start in pre-season and hopefully I will stay in and around it and provide competition.
A new manager always generates a buzz, but are the players as excited as everyone else about it being Stuart Pearce?
Yes, I think so. Towards the end of last season he came and had a good chat with everyone. He came across really well. He's someone that everyone is looking forward to getting back in and playing under and kicking on.
Have you had much of a chance to speak to him, he was at a lot of the games towards the end of the season having a look at you all?
No, I haven't really, not on a personal front. It's been more of a collective thing, rather than one-to-one.
His arrival, coupled with the fact that it's Forest and the money that is there now, expectations are going to rise again aren't they and the club will be expecting to push for promotion?
Definitely. Every season that's aim, 100 per cent the aim is to get promotion. There's no reason why we can't go on to do that.
This season, the injuries didn't help did they so if you can keep everyone fit and get a few more in, you should be right in the mix shouldn't you?
Definitely. Last season was ridiculous with the injuries. I was speaking to the physios and they had never seen anything like that, and some of them have been working for years. We now need to look at pushing on. I can't see why we can't. A couple more additions would make it more competitive for places and with the new manager, hopefully we can do it.
For you, you've signed the new contract, that must be a weight off your mind and allows you to focus on your football now doesn't it?
It does. I was coming to the end of my contract last season and then Billy Davies got sacked and it was all up in the air. Then I started to play games. I was worried at the start, so that is a massive weight off my shoulders. I can now just concentrate on my football, which I'm happy about.
Is there anything specific over the summer that you will be looking to work on to ensure that you hit the ground running next season?
It's all about fitness. Most of my game is based on energy, so if I can get fully fit then hopefully I can push for a place in the team.