Hughton admits relief at draw
Chris Hughton said he was relieved Birmingham managed to salvage a 1-1 draw against Barnsley.
By Hayley Paterson
Last Updated: 24/09/11 7:15pm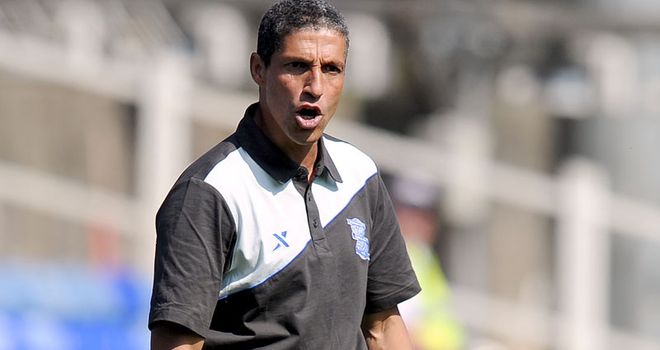 Chris Hughton said he was relieved Birmingham managed to salvage a 1-1 draw against Barnsley.
The Blues got themselves off the hook with a Chris Burke equaliser four minutes from time after the Tykes took the lead through Jacob Butterfield's stunning strike.
Hughton was the first to admit that Barnsley dominated the opening 45 minutes and said it was one of the poorest displays from his side since being appointed in the Midlands.
"It was relief in the end because the first-half performance wasn't good," he said.
"It was probably as poor as we have been in the period of time I've been here.
"They are a team in really good form and it showed. It was going to be a case of having to match them because we were not good enough on the ball."
Foul
Hughton applauded Barnsley's opener but was disappointed a foul was not picked up in the build-up to the goal.
"It was a wonderful strike for their goal but it was most definitely a foul, a blatant foul, leading up to the shot," Hughton said.
"I was very surprised in this day and age, and looking at the other bookings, that he did not pull that one up as a foul.
"That aside, they deservedly had the lead in the first half on the balance of play."
Keith Hill saw his Barnsley outfit denied their fifth win in their last 25 league games after Burke's strike at the death.
Satisfied
However, he was satisfied with the performance from the visitors, saying: "I was really encouraged by the performance at 1-0.
"I didn't think we were in any danger until the last 10 minutes, when there was an obvious threat.
"I thought we should have been more comfortable when holding the lead. I thought the performance merited more goals. But I am encouraged by the performance coming to Birmingham and competing.
"At times we looked an accomplished Championship side and had more than enough opportunities to have won.
"But before the game everyone had written us off, so I am encouraged by the performance and we keep our belief and confidence."