King confident of turnaround
Marlon King is confident that Birmingham will turn around their recent run of disappointing results as the season progresses.
Last Updated: 27/09/11 3:32pm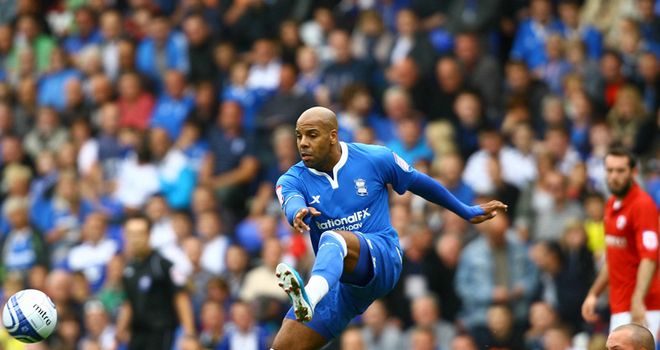 Birmingham City striker Marlon King is confident that they will turn around their run of disappointing results in the early stages of the campaign as the season progresses.
The Blues were held to a 1-1 draw by Barnsley at St Andrew's in the Championship on Saturday and are now just two points above the relegation zone, although they do have a game in a hand.
Last season's Carling Cup winners suffered relegation from the Premier League at the end of the 2010-11 campaign and their target this term is to return to the English top flight right away.
King, who is one of a number of players Birmingham recruited over the summer, believes that they will come good as the season unfolds and once the new personnel settle in.
Long campaign
"It's a long hard season and there are going to be random results," the 31-year-old told Birmingham's official website. "Credit to Barnsley, you can't take anything away from them, they've been on a good run of form and came here and set their stall out.
"We just didn't match them in the first half but got into the changing room and said what we had to say and we came out in the second half and nearly nicked it in the end.
"Ziggy (striker Nikola Zigic) showed again what a handful he is. He's a presence and as a striker you gamble off him and feed off his bits. He's six feet seven but he's very good on the ground also. Teams worry about him.
Team work
"But all four strikers are going to chip in and throughout the squad there is good competition for places. There were a lot of boys disappointed at missing out on Saturday but they'll get a chance.
"We've got the European match on Thursday (against Maribor in Europa League away from home) and another league game on Sunday (Nottingham Forest away) so everybody's going to be needed and I think everyone understands that."
King added: "Once we get settled and put final touches to things we'll be okay. It's a long hard slog this season and no team is going to run away with the league in the first three months.
"We know what jobs we've got to do and we'll be working hard on the training ground."