King eyes Euro revival
Striker Marlon King believes Thursday's Europa League clash will give Birmingham the chance to get their campaign back on track.
Last Updated: 29/09/11 9:36am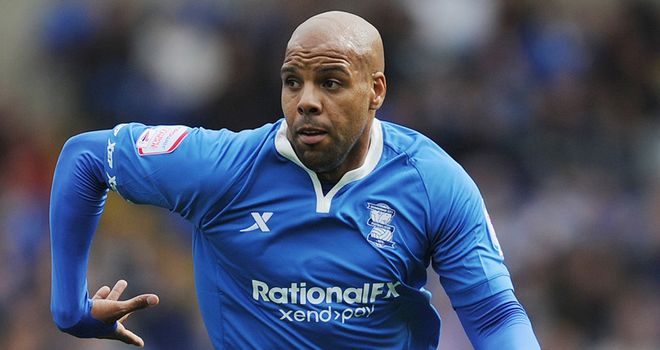 Striker Marlon King believes Thursday's UEFA Europa League clash will give Birmingham the chance to get their campaign back on track.
The Blues are poised to face Slovenian champions NK Maribor in Group H having lost their opener at home to Braga.
Manager Chris Hughton has previously lamented the added workload of a European distraction but admitted on Wednesday night it can also act as "a welcome release" from the rigours of the Championship.
Defeat
Last season's Carling Cup winners currently sit 19th in the table following a defeat at Southampton and home draw with Barnsley in their last two league games, and both King and Hughton believe the change of scenery can benefit the team.
"There's definitely a buzz around these games, from the gaffer to the players," said King, who joined Birmingham from Coventry in the summer.
"European games are bigger and it gives everyone a chance to put things back on track. These games are special, for everyone associated with the club, and it's something you want to be part of.
"These opportunities don't come along all the time and when the chance to play in Europe was put to me I didn't have to think twice.
"No disrespect to Maribor, it's an opportunity to get points on the table. I'm sure they will be thinking the same thing, though."
Following the 3-1 defeat at home to Braga in their opening group game, Hughton sees tonight's game as important but not decisive.
"There's still a lot of points to play for," he said.
"There's no doubt Braga and Brugge are the two teams with the most experience and European knowledge, though, so I wouldn't say it is a pivotal game."
Ruthless
Hughton's men acquitted themselves well in the defeat by Braga but last season's losing finalists showed their quality with some ruthless finishing to take three points back to Portugal.
"It's fair to say the Braga game was something of a reality check and there were lessons learned from it," Hughton admitted.
"They were just more clinical on the night and that makes all the difference.
"We've looked at the tapes and learned things that can benefit us."