Hughton focused on play-offs
Chris Hughton is focusing on the play-offs after Birmingham's 2-0 win over Reading, while Brian McDermott was left baffled by the referee.
Last Updated: 28/04/12 4:25pm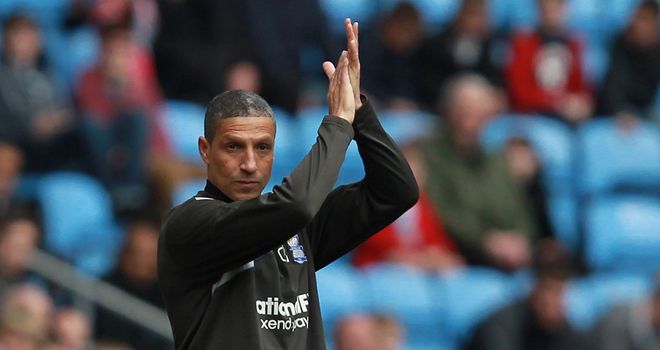 Chris Hughton is focusing on the play-offs after Birmingham City's 2-0 win over champions Reading, while Brian McDermott was left baffled by some of the referee's decisions.
Adam Rooney and Wade Elliott scored at St Andrew's to ensure Birmingham finished fourth and will now meet Blackpool in the play-offs.
The build-up to the game was overshadowed by confirmation of Birmingham's inability to publish their 2010/11 accounts on time, meaning Hughton may not be able to strengthen his squad until the end of July.
Hughton said: "At the moment the thought of playing in the two play-offs is taking up 100% of my thoughts.
"We know there is an issue but it is not on my mind at the moment.
"There is an emphasis from everyone at the club to try and get through to the final and get back into the Premier League. That will take up all of our efforts."
Desperate
Commenting on Birmingham's latest success, he said: "It has been a long hard season. This was our 60th game of the season but we finished very strong and that shows what we have in the team and the locker.
"This is why we are desperate for the lads to finish off the job and I sincerely hope they can."
Hughton paid credit to his stand-in goalkeeper, Colin Doyle, who saved his fourth penalty of the season to deny Ian Harte.
He said: "Colin is a big frame in the goal but his latest save galvanised the crowd and the team also responded."
Elliott also missed a penalty, but only after converting from the spot earlier and Reading boss McDermott, who saw his side beaten for the first time in eight games, was left bemused by some of the referee's calls.
Irrelevant
"It was a funny decision in the first half when the referee didn't give us a penalty which would have made 1-1," he said.
"There could have been a sending off and he missed it and then he gave three silly penalties in the second half.
"It is all irrelevant now but I would not have liked have come here wanting a point and not getting it because of that decision.
"But we have played 46 games and won the league and that is what it is all about.
"I think Birmingham are a really good side and (play-off opponents) Blackpool will have a tough ask. There is a good atmosphere and Birmingham have good players. They also have a good manager in Chris Hughton. He is a class act.
"He said he would have liked to have done a guard of honour but the league, for whatever reason, said they couldn't.
"If we brought the champions to our ground in the last game of the season I would insist we give them a guard of honour. It is a nice touch."