Birmingham at advanced stage in talks with a Hong Kong party interested in takeover
Birmingham are at an advanced stage in discussions with a mystery Hong Kong party interested in a takeover of the club.
Last Updated: 23/11/12 8:33pm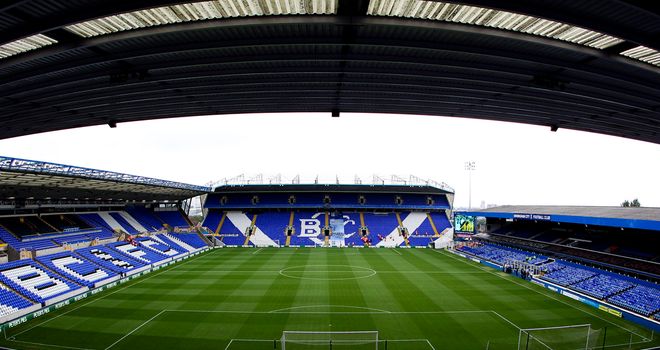 The board of Birmingham International Holdings Limited (BIHL), City's parent company, told the Stock Exchange they are in talks with two parties from Hong Kong and one from the UK - believed to be Gianni Paladini's Italian-backed consortium.
The former QPR chairman was understood to be leading the chase, although Blues' acting chairman Peter Pannu last week poured cold water on claims from Paladini that their takeover deal could be agreed within 10 days.
A statement from BIHL read: "As previously announced on September 21 and October 9, the board has been approached by several prospective buyers who had shown interest in the purchase of BCFC, which is the company's sole operating assets.
"Given the fact that confidential non-disclosure agreements had been entered into with three of the parties who are still in pursuit, two in Kong Kong and one in the United Kingdom, it is inappropriate to divulge detailed information of the status of the negotiations.
"The board wishes to inform the shareholders that the criteria that the board shall adopt in this disposal would be to identify a new owner who could take BCFC to the next level both in terms of their financial standing, business acumen and overall suitability and the nature of their offer and the overall terms of the offer.
"A balance will be struck between what is the most beneficial for the shareholders and what is the most appropriate for the development of BCFC as the board acknowledges that football is a business where, inter alia, the aspirations of the fans need to be considered."
The statement added: "The negotiation with one of the parties in Hong Kong is at an advanced stage although no conditional binding agreement has been entered into between the parties.
"The transaction, if it proceeds, will constitute a very substantial disposal transaction by the company under the listing rules and will be subject to the approval of the shareholders in a general meeting.
"A detailed announcement will be made as and when appropriate."
A first offer from Paladini's consortium, believed to be around £25million, was rejected in September.
Meanwhile, current owner and Hong Kong businessman Carson Yeung, who is currently unable to leave the Far East, will still face court on November 28 over alleged money laundering after today seeing a bid to delay the case rejected.