Former Birmingham striker Christian Benitez dies aged 27
Former Birmingham striker Christian Benitez has passed away in Qatar aged only 27.
Last Updated: 29/07/13 6:30pm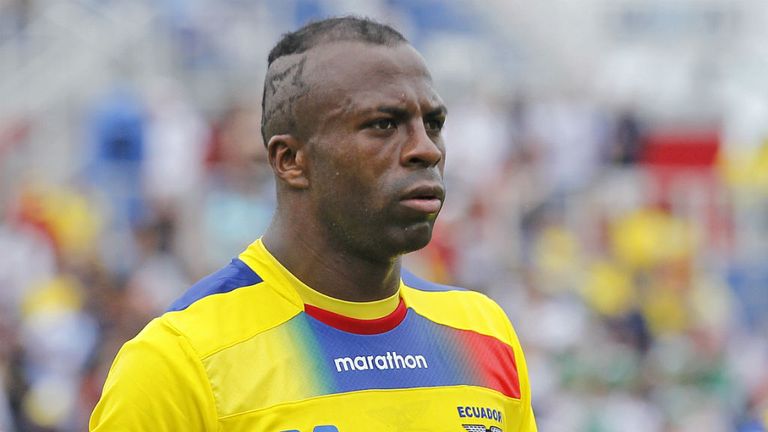 The Ecuador international suffered a cardiorespiratory arrest after being admitted to hospital with stomach pains following his debut for Qatari club Al Jaish.
Benitez, who was rumoured to be a summer transfer target for Tottenham, signed a three-year contract with Al Jaish earlier this month after leaving Mexican side Club America in a deal worth around £10m.
An Ecuador Football Federation statement read: "The FEF regrets to inform you of the death of Christian Benitez, the striker of Qatar club Al Jaish and the Ecuador national team.
"Benitez, who was with his new club in Qatar, had a severe stomach pain, which was why he was rushed to a hospital, where after a few hours suffered he suffered a cardiorespiratory arrest, which ended his life.
"The Ecuadorian Football Federation extends its heartfelt sympathy to the family - parents, wife, children - and friends of our striker Christian Benitez. May he rest in peace."
An earlier statement released by Al Jaish said: "The club would like to offer its sincere condolences to the family of the player.
"The player participated for the first time with the team during Sunday's match against Qatar Sports Club in the Sheikh Jassem Cup without complaining of any health problems.
"His sudden departure is a big shock for each member of the technical and administrative staff. He was a player that over the short period he was here was regarded for his high moral character."
Benitez, popularly known as Chucho, joined Birmingham on loan from Santos Laguna in 2009 and scored four goals in 36 appearances.
"Birmingham City Football Club is saddened to learn of the passing of former striker Christian 'Chucho' Benitez," read a statement on the Championship club's website.
"The thoughts of all associated with the football club are with Chucho's family and friends at this very sad time. Chucho's passing will now be marked at St Andrew's ahead of Saturday's fixture against Watford.
"The Ecuador international was an immensely-popular character during his time at the football club."
Alex McLeish, Birmingham's manager when Benitez was there, told Sky Sports News: "He was a very likeable guy and dangerous in the box.
"He only scored thee goals and people thought we let him go because of that. I would've kept him but he went because we were trying to bring in some top players.
"That didn't materialise and I was left cursing the fact we could've kept him for that season because I'm sure he'd have flourished in England."
Sunderland midfielder Craig Gardner, who played with Benitez at Birmingham, was one of the first to pay tribute on his Twitter account.
He wrote: "Can't believe Christian Benitez aka chucho has died had the pleasure to play with him he was a top bloke. My thoughts go out to his family."
Benitez scored 52 goals in 79 appearances over the last two seasons, and he was also a regular for the Ecuador national team, earning 58 caps and scoring 24 goals and featuring against Germany in the 2006 World Cup.