Championship: Brian McDermott was delighted with Leeds' win against Birmingham
Brian McDermott was delighted with Leeds United's 4-0 win against Birmingham in the Sky Bet Championship on Sunday.
Last Updated: 20/10/13 5:13pm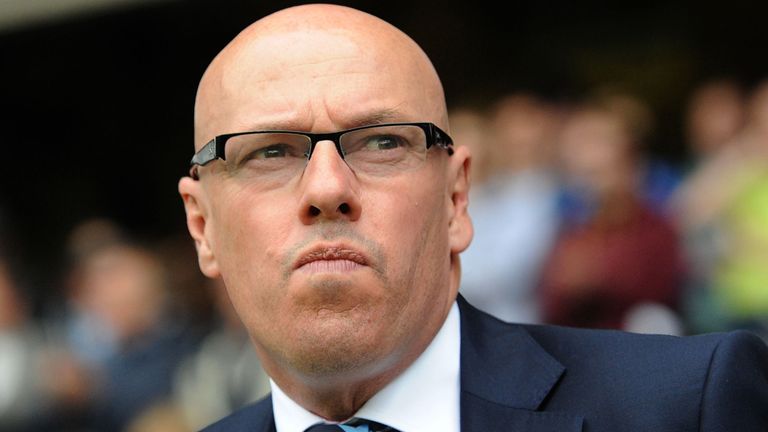 Leeds marched into a three-goal lead in the first half before adding a fourth late on in the second.
McDermott's side had been inconsistent in recent weeks but put pressure on their opponents from the first whistle.
Speaking to Sky Sports after the game, McDermott said that it was exactly what Leeds deserved.
McDermott said: "We have been trying to find a way to win and today we did.
"I think that's 10 wins from 20 since we've come to the club so it's been a funny little run.
"I thought the boys were really, really good and the international break came at exactly the right time for us. It gave us the opportunity to score some good goals today."
Leeds were led by Jamaican midfielder Rodolph Austin and McDermott reserved special praise for his captain.
McDermott added: "It's a good position for Rudy. I wanted to show him how much the Leeds fans appreciate him. He was fantastic this afternoon.
"Now we focus on Huddersfield Town and it's another three points that are up for grabs."
Birmingham manager Lee Clark, meanwhile, said his side were poor overall and need to improve quickly.
Also speaking to Sky Sports after the match, Clark said: "We were not good enough. Our defending was atrocious.
"The whole game we didn't play well. Our passing. Everything.
"It's nothing to do with systems. Why are we obsessed with systems? We didn't defend or close down properly. We didn't do our jobs.
"We got what we deserved today. The general performance in the first half was not acceptable. Leeds won every first and second ball and passed it better than us.
"We defended like young players but we don't come out here and criticise. We win and lose together.
"We didn't give ourselves a chance today, we gave ourselves a mountain to climb."