Championship: Birmingham assistant Terry McDermott was devastated with Charlton loss
Chris Powell was ecstatic after Charlton beat Birmingham 1-0, while Lee Clark was too disappointed to even give a view.
Last Updated: 04/11/13 3:02pm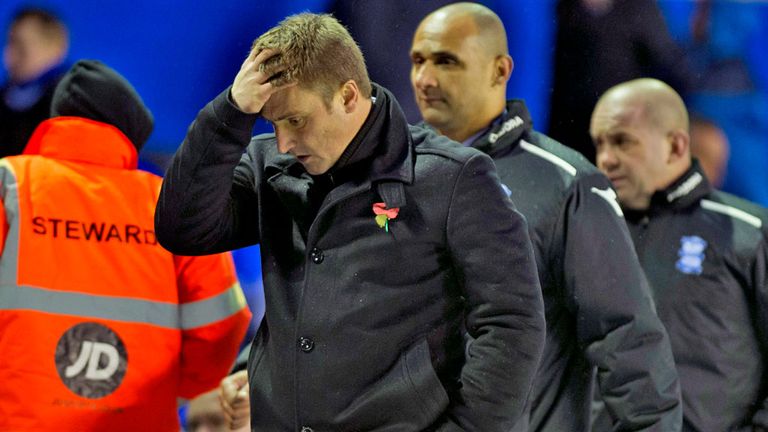 As result, Clark did not attend the post-match press conference, instead leaving his deputy Terry McDermott to express his "devastation" at the result.
Birmingham dropped into the bottom three for the first time as a result of this defeat and the future is beginning to look desperate on and off the field for the Midlands club.
"No one is happy with the position we are in at the moment in the bottom three. I would like to think that it will not last long because we have too many good players in the side," McDermott said.
"But those players who did so well against Stoke City in a thrilling League Cup tie didn't turn up for the Charlton game.
"We are all devastated with the result especially after some good performances in our recent games.
"We thought we had turned the corner but we simply didn't perform on the day against Charlton. Our decision making was very poor."
Charlton, now unbeaten in their last five games, clinched the three points with a 56th minute winner from Dale Stephens who was on the mark for only the second time in the league this season .
Birmingham's young side could make little impression against the rugged Charlton defence, which has now kept a clean sheet for the last four games.
Defence was the key to Charlton's win although the game had appeared to be heading to a dull goalless draw as neither side had shown any real potential to beak the stalemate.
Charlton's only real chance in the first half fell to Stephens late in the first half but his effort lacked power and Darren Randolph made an easy save which summed up a low key and disappointing first half.
Stephens, however, more than made amends early in the second period when he notched a rare Charlton goal in the 56th minute.
Randolph parried an effort from Cameron Stewart but Charlton had their tails up and following a cross from the left Bradley Pritchard nudged the ball into the path of Stephens who, with an open goal at his mercy, made no mistake from close range.
It is only Charlton's 10th strike of the season and could be the goal to kick-start their climb up the table.
Powell was impressed with Charlton's win and thought it should have been more conclusive.
He said: "I'm really pleased with the performance of the players. It was a crucial game but we warranted the three points.
"The start of the season was very mixed and we needed a foundation upon which to build.
"If you keep out the opposition you will get your chances. My only gripe was that it was only 1-0 and I felt 2-0 or 3-0 would have been right.
"All the players are doing their job and they fully deserved their win.
"Last season I thought we exceeded expectations and we raised the bar. We have lost a few players and we've had a lot of injuries this season to key players.
"I've given the players confidence to go out and play. They have given each other confidence and a platform and some are playing really well."