Birmingham boss Lee Clark hails Lee Novak's performance in 3-2 win at Blackburn
Birmingham coach Lee Clark praised Lee Novak in the 3-2 victory over Blackburn, while Gary Bowyer was proud of his side.
Last Updated: 30/12/13 10:56am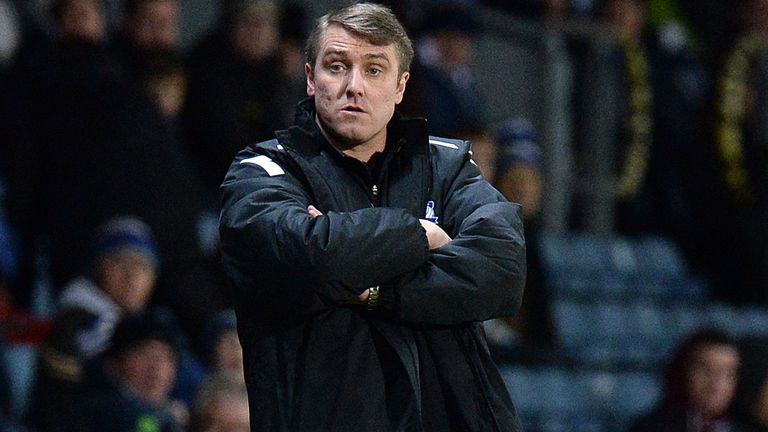 Novak bagged his third and fourth league goals of the season within the first 20 minutes courtesy of a close-range finish and a spectacular 30-yard strike.
Chris Burke pounced on a poor Simon Eastwood clearance after 36 minutes, and even though Rovers produced a stirring fightback through a Jordan Rhodes double, the Blues withstood the late onslaught to stretch their unbeaten run to nine games.
Clark was quick to pay tribute to his two-goal hero, saying: "You know what I think about him (Novak). He's an unsung hero.
"Whatever position I ask him to play in, he runs through the proverbial brick wall and what I'm happy with now is in the last few weeks he's getting the goals his performances deserve.
"A lot of people at the club now, in terms of the supporters and everyone around the club are seeing the value of the player."
Clark described his players as "different class" as he revelled in Birmingham extending their unbeaten run on the road - where they have not lost since October - to six.
"To come away from home and win any match is fantastic," he said.
"The first-half performance was a terrific away performance. We contained Blackburn and restricted them to minimum chances and scored some terrific goals on the break ourselves and could have scored a couple more so we're absolutely delighted.
"There were a few anxious moments but I've just said to the players if there were prizes given out in the division for heart, desire, commitment, passion, pride in the shirt and playing for the fans and club, they'd be running away with the division.
"Towards the end, the players to a man, when all those crosses were coming in - were different class."
Blackburn boss Gary Bowyer was in bullish mood after watching his side's four-match unbeaten run - their longest this season - go up in smoke, and felt his side's response in the second half was "outstanding".
"I didn't think we were bad in the first half to be honest," he said.
"I think Birmingham might have got in our half about three times and scored three goals. The level of performance first half was decent.
"We were happy enough at how we were with the ball, but they were poor goals from our point of view.
"The second half was absolutely outstanding and I've nothing but pride for them because we could quite easily have collapsed and died and showed no fight but this group of players don't know that and it's full credit to them because we turned that mentality around very quickly in a short space of time.
"On another day we might have got a point out of it.
"We got booed off in a 0-0 draw three days ago and we get clapped off today in a 3-2 defeat so it shows the level of performances we're putting out.
"We're going to Leeds, as daft as it sounds, full of confidence in terms of how we played. We dominated the game from start to finish.
"We just need to cut out these gifts that we're giving the opposition."