Sky Bet Championship: Lee Clark felt mixed emotions after drawing with Barnsley
Birmingham manager Lee Clark admitted he was deflated after a draw against Barnsley, while Danny Wilson was encouraged.
Last Updated: 01/01/14 6:41pm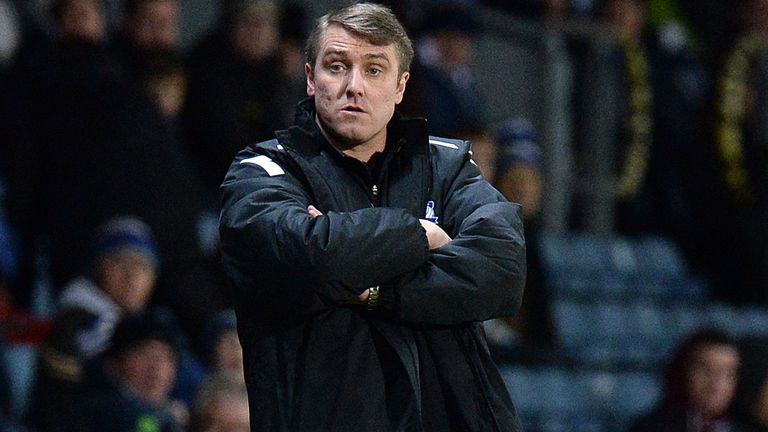 Clark revealed that Olly Lee, Lee Novak and skipper Paul Robinson were all physically sick at half-time because of the bug that had hit St Andrews.
The Birmingham boss said: "There appears to be a bug going around club and it will be closed down for a couple of days because we cannot allow it to upset any more players."
Clark, however, was disappointed with the result after Nikola Zigic gave Birmingham a 10th minute lead only for Jacob Mellis to equalise direct from a 61st minute free-kick.
He said: "We are a bit deflated with the result.
"We feel we have dropped two points. It is frustrating but we should have won the game. It is an example to my young players to do the right things. I know they will learn from the experience.
"Unfortunately there appears to be a common theme in the home games. We start so well and go ahead but then have a nervy spell.
"The opposition then get a goal and then we kick on again. It seems as if have to get angry before we put the opposition under pressure.
"While it is 1-0 there is always an opportunity and I've always said many times set pieces are a great leveller.
"It was a great execution and it got Barnsley back into the game.
"I was frustrated for the players because over the festive period they have given me everything.
"I was in bit of a dilemma at half-time. I had three players physically sick and they were running on empty in the second half."
Barnsley manager Danny Wilson revealed that Brek Shea had only been registered a minute before the two o'clock deadline and was very impressed with the Stoke player's contribution to the game.
Wilson said: "I was disappointed with Birmingham's goal as I thought the lads would have cleared the cross.
"Afterwards we played well and created some good chances considering the run Birmingham are on at the present time.
"We were very positive and in the second half showed great patience and resilience.
"It was a brilliant free kick equaliser from Jacob Mellis. He has great technique although he is a bit loose at times.
"Obviously I am encouraged by this performance. We haven't gained many points away from home and to get a result that not many people expected is a fine performance.
"After going behind to an early goal people might have expected the floodgates to open but we turned it around.
"There was nothing between the two teams but there are plenty of points to play for and if we can repeat the kind of performance we showed against Birmingham we will close the gap between the teams above us."
Birmingham's goal came in the 10th minute when a cross from Callum Reilly was missed by three Barnsley players and Zigic tapped home from a couple of yards.
It was not until the 61st minute that the equaliser came when Mellis, who had a couple of chances in the first half, curled in a brilliant free-kick from the right.
Despite their fine battling performance Barnsley are still anchored at the foot of the sky Bet Championship.
They can, however, take encouragement from their draw at St. Andrews as it was full of promise.
It was Birmingham's fifth successive home draw and despite being unbeaten in their last 10 matches they have still only recorded two home wins this season in the Championship.