Brown injury worries O'Neill
Wes Brown could face a lengthy lay-off after injuring his knee on Sunderland's pre-season tour.
Last Updated: 23/07/12 11:12am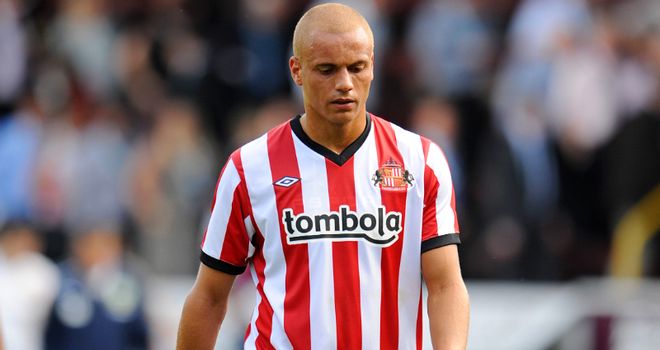 Wes Brown could face a lengthy lay-off after injuring his knee on Sunderland's pre-season tour.
The former England international limped off after just over 30 minutes of the Black Cats' win over Dutch side Groningen in Suwon, South Korea.
Brown missed the last four months of 2011/12 with a knee injury, and the news adds to Martin O'Neill's injury concerns, with Carlos Cuellar also forced out of action even earlier in the first half of Sunday's game.
"Wes is the worry," O'Neill admitted to the Sunderland Echo. "It could be a bad one, but we really don't know at this stage. You're told one thing at half-time and another thing at full-time, so, really, it's too early to tell.
"We'll probably only find out once we're home and it settles down, but hopefully it won't be too bad because he's an important player for us."
Cuellar had played around half an hour of the first of Sunderland's two games in the Peace Cup, against Seongnam, and his manager did not want to take a risk with the 30-year-old.
Disappointing
"It's disappointing that he couldn't get more minutes under his belt, but he felt a tightness in his thigh and did the right thing and came off," O'Neill added.
"You don't want to go risking injury in pre-season and Carlos did the smart thing and came off."
Sunderland have a growing injury list following their visit to South Korea, with Simon Mignolet, David Vaughan and Blair Adams also sidelined although O'Neill was cautiously optimistic over the trio.
"Simon was precautionary for the game. We'll assess him when we get home.
"David Vaughan has had a frustrating time of it. He felt his groin and missed the first match, then had an absolutely excellent training session, only for him to feel it again at the end of it.
"As for Blair, he's a young lad who is eager to impress on pre-season and I think he might have just overdone it a bit and pulled his hamstring."