Sunderland manager Martin O'Neill ready for tough test against West Ham
Sunderland manager Martin O'Neill knows his side face a tough test against West Ham and has defended Sam Allardyce.
Last Updated: 21/09/12 2:39pm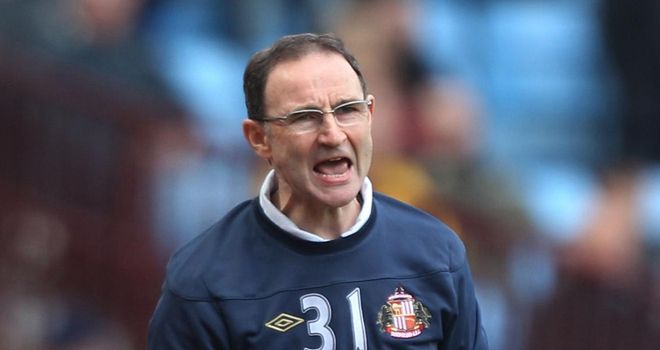 The Black Cats make the trip to Upton Park on Saturday still searching for their first win of the new campaign following draws with Arsenal, Swansea and Liverpool.
The Hammers boast a 100 per cent record from their two games in east London and have yet to concede following victories against Aston Villa and Fulham.
"They've got off to a very good start and they will be pleased with that," O'Neill said.
"They have obviously got points on the board and they mean a great deal to any football club, but it will be tough. Knowing the manager as I do, those difficulties will be for us on Saturday and I think it will be a really difficult game for us.
"West Ham got up last season and that's not an easy league to get out of. They did very, very well.
"You would always back Sam to have taken the team up and with him at the helm I don't think there will be any danger of the team going back down again. He's proved his worth over the years.
Big-league team
"I don't consider West Ham to be a newly-promoted team, although that's exactly what they are. I always think of them as a big-league team and it is difficult to go there at any time.
"My players are getting more confidence about their game. Against Liverpool, particularly in the first half, we matched them, broke on them very strongly and scored a great goal."
Allardyce has often received criticism for the direct style he favours, but O'Neill dismissed the negative attitude to the approach, especially when it can be so effective.
He said: "There was a game played on Monday night between Everton and Newcastle which was a very exciting game and both teams used that tactic at times.
"It still led to exciting football. There are different ways of playing the game. Not everyone can play like Barcelona although we would all love to be able to do that.
"I see even Real Madrid deciding to go long when they were under pressure and needing to get a goal. Everyone is in the results business and if you feel that's what can get you a result and it's a legitimate tactic then why not use it?"