Sunderland boss Martin O'Neill is playing down striker Steven Fletcher's bright start at the Stadium of Light
Sunderland boss Martin O'Neill is playing down striker Steven Fletcher's bright start to his career at the club.
Last Updated: 28/09/12 2:31pm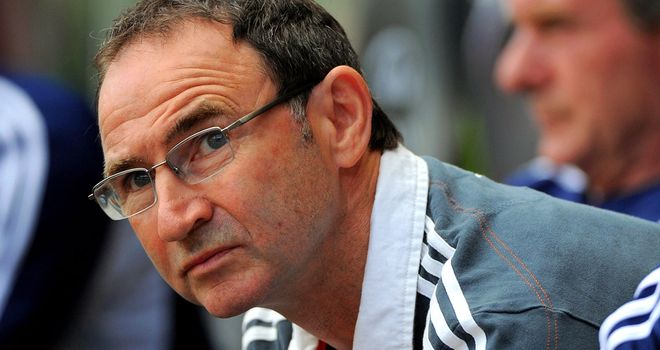 Fletcher arrived at Sunderland from Wolves before the close of the summer transfer window, and he has scored four goals in his opening three Premier League matches for O'Neill's team.
But the Scot is the only player who has scored for the Black Cats in the top flight this term, which is something of a concern for the manager.
O'Neill is keen for that situation to change, starting when his charges entertain Wigan on Saturday, but he insists it is still too early to judge Fletcher.
"He has had a great start to his career here, which I am delighted about," O'Neill said.
"It makes things a wee bit easier to settle in, and he has done so very, very well.
"But eventually, we will need other players to score goals and I am sure in the course of time, they will do.
"But making judgments after just four games might be a wee bit rash."
Stephane Sessegnon is one man Sunderland believe should find the back of the net on a more regular basis, and his developing partnership with Fletcher is likely to be key to their hopes of progress this season.
Asked how long it might take for the relationship between the two men to blossom, O'Neill said: "It varies. You want players to be able to settle as quickly as possible, and that he [Fletcher] has certainly done.
"He has been aided greatly by scoring goals, so he feels confident now and that's very, very important. Over the course of time, there are going to be a number of partnerships that we are going to have to rely on.
"Sessegnon's fitness is improving. He worked exceptionally hard for us the other evening there when Lee [Cattermole] was sent off, going back and playing in really an unaccustomed position.
"Certainly it's not something he wants to do, defending right wing, but he did that very, very well for us and helped us get a result."