Stephane Sessegnon is happy to handle supporter expectation at Sunderland
Stephane Sessegnon is aware of the pressure placed on him by Sunderland fans, but is thoroughly his time on Wearside.
Last Updated: 18/10/12 10:01am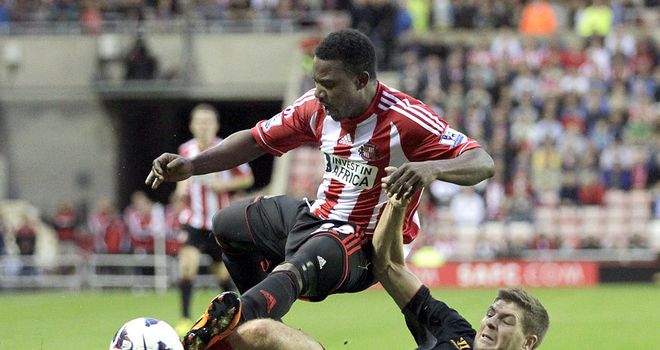 After taking time to settle in England, Sessegnon is now considered to be one of the Premier League's most consistent, and highly-rated, attacking talents.
A £6.7m fee paid to Paris St Germain in January 2011 now looks like a snip for a player blessed with creative instincts and the kind of team ethic required to be a success in England.
Sessegnon appreciates that his exploits have raised expectations around him, but he is happy to shoulder that responsibility.
He told The Independent: "I can feel big expectation from the fans on me. That is logical, they expect me to perform. The fans here are almost more enthusiastic than the players themselves.
"I am a creative type of player, the passion is a positive thing, it makes me want to go higher and in search to be better, to produce more, I want to be more excellent for them. It is a good thing.
"My relationship with the supporters here was one of the factors that made me renew my contract."
Frustrating
Sessegnon, who admits Sunderland's arch-rivals Newcastle United expressed an interest in his services before he moved to PSG in 2008, says feeling settled has helped to bring the best out of him and has sought to rubbish reports which suggested he wanted out shortly after arriving in the North East.
He added: "It was the tirelessness and willingness of the people at Sunderland to get me that played a big part in my decision to come here.
"It is true I had a couple of difficult months when I first arrived but I was getting used to my environment.
"People speculated that I didn't want to stay. It was of course frustrating, it was not coming from me. I felt very good here. Maybe it was because my family wasn't here at the time but I still felt good here. It was nonsense.
"It wasn't easy when I first came here, of course. It was a culture change. The first month was actually quite difficult, but there is a family bond here, that helped me settle."