Carlos Cuellar is looking forward to his first taste of the Wear-Tyne derby
Carlos Cuellar has been left in no doubt as to how important Sunderland's derby date with Newcastle is to the fans.
Last Updated: 21/10/12 12:49pm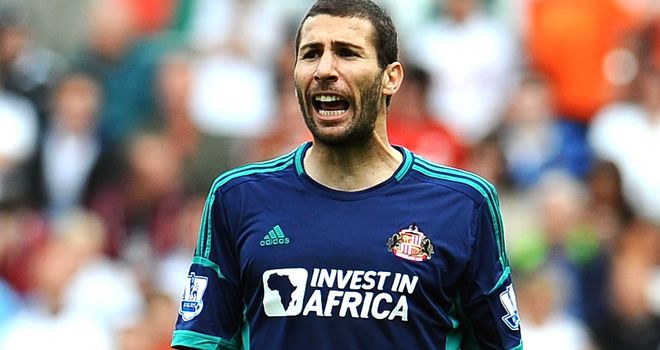 The Spanish centre-half grew up watching El Clasico clashes between Real Madrid and Barcelona and has already taken in Glasgow and second city derbies during his playing career.
The former Rangers and Aston Villa defender is, however, relishing the opportunity to get his first taste of North East rivalries on Sunday.
Cuellar knows such occasions call for calm heads, but he cannot wait to see how the atmosphere at the Stadium of Light measures up to his previous derby experiences.
"I was a Real Madrid fan and used to get so excited watching the El Clasico games against Barcelona," he said.
"Then when I joined Rangers, the Old Firm derbies were amazing, some of the best games I've ever played in my life.
"But since joining Sunderland, fans have been telling me this is more important, the biggest of all."
Intensity
Cuellar added: "Some people think if you lose this game it's the end of the world. It's not, it just feels like it.
"I love the sensation of derbies. You are representing a mass of people and the players are very aware of their responsibilities.
"This is one of the easiest games of the season to prepare for because you look forward to it so much.
"But it's the kind of game that as a player, you sometimes have to hold back. Have that intensity but play with your head, not your heart."