Sunderland boss Martin O'Neill wants players to stay cool against Newcastle United
Sunderland manager Martin O'Neill has called for cool heads if they are to win the Wear-Tyne derby against Newcastle.
Last Updated: 21/10/12 12:49pm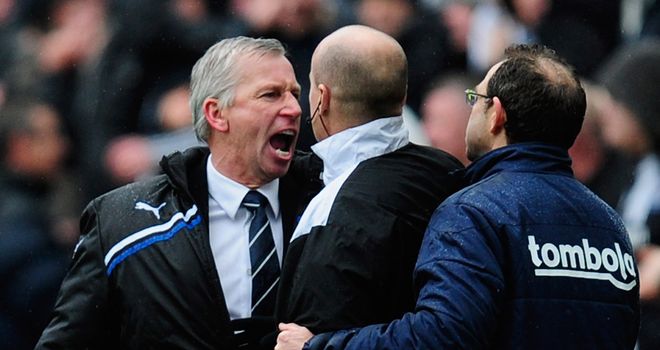 Phil Bardsley was sent off in the corresponding fixture last year while Lee Cattermole and Stephane Sessegnon saw red for the Black Cats the last time the teams met in March.
And O'Neill is well aware his team have a better chance of beating the Magpies if they have 11 men on the pitch at the Stadium of Light.
"The key to winning is that we must stay cool. I am not saying that will be easy in such a passionate atmosphere but that is what we must aim for," said the Sunderland boss, quoted in the Sunday Mirror.
"They are intense affairs but I think the discipline becomes so important because if you can keep a reasonably cool head, then you will definitely have a better chance.
"If you do that you can keep a clearer head. But I am saying that and I should be taking the same advice. Hopefully, I can keep a clear head otherwise it will get animated on the touchline, for the want of a better word.
"The discipline aspect is very important - very important indeed particularly in derby games. I thought last season we might lose a player and the usual suspects might come to mind. You wouldn't expect Sessegnon to be sent off the pitch.
"We will have a better chance of winning the game if we have 11 players for 90 minutes. That is a fact."
Fletcher
Steven Fletcher has scored all five Premier League goals that O'Neill's team have mustered so far this season and while acknowledging it is early days, the manager feels the £12million man is justifying the fee.
O'Neill added: "Fletcher has scored five goals and played well for us. I am sure Steven will take this in the right way but I am not sure that six games is any great proof.
"He has got off to a great start. I am delighted with that. It is some justification for things.
"Vindication I think comes at maybe the end of a season. I wouldn't be rushing out and making judgments on six games and telling you he is worth every single penny. Time will tell but I think he'll do it.
"I am delighted he has go off to a great start because it is gives him the confidence that is the good thing for him.
"Some players may say the fee has nothing to do with them but, particularly with a centre-forward, if he is not scoring goals it starts to play on his mind bit. It just does.
"It is encouraging therefore that he has got off to a great start and the crowd has taken to him. It helps him settle into the team and stops him worrying. I just hope that it can continue.
"I am positive that over the course of time, Steven Fletcher will prove a great acquisition. That is my view."