Martin O'Neill has urged Sunderland to take their chances against Aston Villa
Sunderland manager Martin O'Neill is hoping his side can be more clinical in Saturday's clash with Aston Villa.
Last Updated: 03/11/12 2:16pm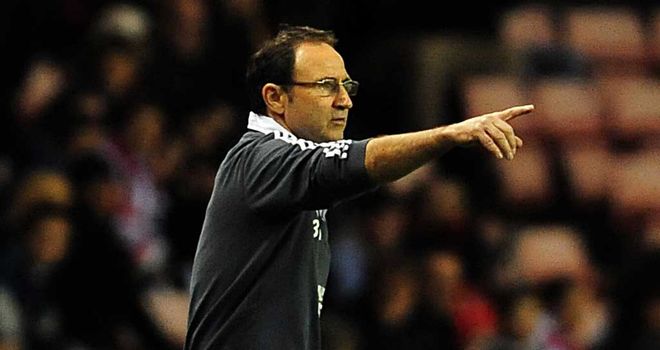 The Ulsterman welcomes his former club to the Stadium of Light and with both sides struggling in the early part of the season, O'Neill is urging his men to find their form in attack.
"This season we haven't created enough clear-cut chances in as many games and I think that's the biggest thing," he said.
"If you're taking a ratio of chances there's a bigger likelihood that if you create eight chances in a game, there's a fairly decent chance that you will take one or two of those. We need to create more chances.
"I believe we have the ability to do so and I'm far from having lost faith in anyone. Quite the opposite. We've got the capabilities to do that.
"Each single result is isolated and maybe taken out of context, it doesn't really matter.
"We've played eight league games this season and we've been beaten once by the champions and we need to convert a couple of draws into victories. I think we'll be okay."
This weekend's opponents, Paul Lambert's Villa, are 17th and just above the relegation zone with only six points from their opening nine games, having only won once against Swansea.
But O'Neill, who left Villa in August 2010 and moved to Wearside last December, expects a strong showing from Lambert's side.
"Naturally I expect a very difficult game," O'Neill said.
"They had a very fine result in midweek and succeeded where we didn't in getting through to the quarter-finals of the Capital One Cup, so that will stand them in good stead.
"I know the manager very well. We worked together as manager and player at Celtic and I've got much regard for him. I've got no doubt that despite the sticky start he will pull things round.
"He needs a little bit more time as he's only just got there but I don't think there will be a problem."