Sunderland confirm new signing James McFadden has a hamstring injury
Sunderland's new signing James McFadden faces a spell on the sidelines after suffering a hamstring injury.
Last Updated: 04/11/12 12:43pm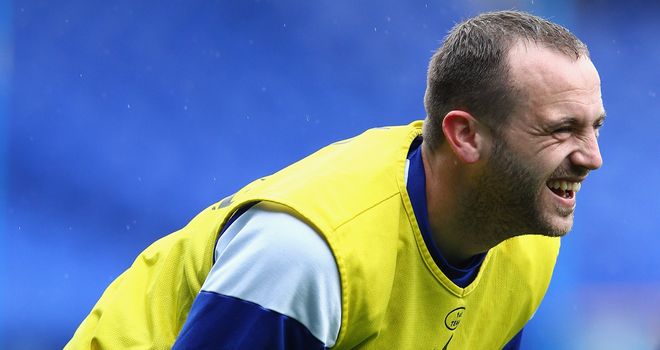 The Scotland international joined Sunderland last month on a short term deal after being a free agent since leaving Everton in the summer.
However, 29-year-old McFadden now faces a battle against time to be fit before his contract in January comes to an end.
"I don't know if we will see James in the team any time soon because on Thursday he pulled up with a hamstring," he told the Sunday Sun.
"I hope it is not too serious, but he was certainly feeling it. So that is a setback. It is a real shame because James has worked exceptionally hard on his fitness and was enjoying the training.
"We have enjoyed having him because he is a really fine lad. I think he wants to do well. James has not accepted the length of the contract, but it was as much for him because I think he felt if he had not made an impact by the end of January, particularly with the number of games coming up, then he might need to look elsewhere.
"He needs to have a chance and I hope the hamstring is not too serious. You have to remember he did not play often for Everton last season.
"Incredibly one of his few games was against us, so he does need time to get up to speed and ready to play in the Premier League."
O'Neill also confirmed that defender Wes Brown has suffered a setback in his recovery from a knee injury which has sidelined him since pre-season.
"It would be great if he was fit and available, but just as we speak he has had a setback again and he will be out for a few more weeks than we thought," said O'Neill.
"He has been out for a fairly lengthy time already and I am quite sure his ability and experience could help us, absolutely. He has been out for so long."