Sunderland boss Martin O'Neill is determined to succeed but admits it will take time
Sunderland boss Martin O'Neill is determined to make the Black Cats a success - but admits it will take time.
Last Updated: 10/11/12 1:44pm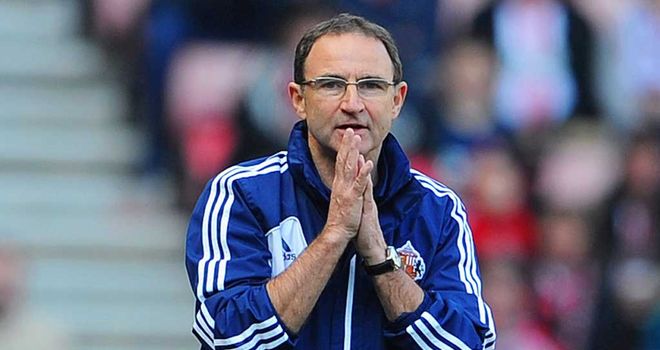 The former Celtic and Aston Villa boss took over last term with the club in relegation difficulty and successfully led them to safety.
While the Black Cats have now just won one of their last 16 games, O'Neill retains his self-belief and insists he is determined to build a team the fans can be proud of.
He said: "By hook or by crook I intend to make this team one the supporters are genuinely proud of and feel as if they have a chance of competing.
"It's not overnight - I have not completed a season yet - but I intend to do that. I'm sitting here today in early November 2012 and I hope that in a couple of seasons we'll have a really strong team here.
"I want to have a side that not only I'm proud of, but that is also competing; and I don't mean invariably competing, I mean being as strong as Everton are, for instance. The one thing I do have, I think, is a little bit of spirit and plenty of determination and I've got a load of enthusiasm.
"It would mean a lot to me to make this a fairly decent football club and I've got a lot of self-belief not to be knocked off course here by a couple of results. I'll put everything into it, anyway, and I've got absolutely no doubt that it'll be good.
"It takes time. It sounds like a defence mechanism and I don't mean it to be the case, but that's the case."
Relegation difficulty
He added: "I remember being asked when I first arrived 'do you think the club are really in relegation difficulty', well, that morning of the Blackburn game, we dropped into the bottom three and we might have to go and fight this again.
"I wish it was instantaneous. I wish that everything could just be like that, but it takes a bit of time.
"People have asked me about the history of the club and how people can feel despondency so very, very quickly, but if that's been the case for 100 years, then please, just give me a couple more months! I'm sitting here now and I'll put a sign out: we will compete.
"When I came here first of all, I wish I hadn't supported the team, from that viewpoint. If this situation continues when we're just treading water or are in serious difficulty every year, well, I'm sorry, what's the point me doing it? What's the point?
"I intend to try to change it, but it will not happen overnight. The greatest living manager in the game has had 26 years at Old Trafford and he will tell you that it doesn't happen overnight. By the same token, I don't want Sunderland supporters to be waiting a decade for it."