Danny Rose has urged his Sunderland team-mates to be ready for a scrap
Sunderland's Danny Rose has urged his team-mates to be ready for a fight as they bid to turn their slump around.
Last Updated: 28/11/12 3:20pm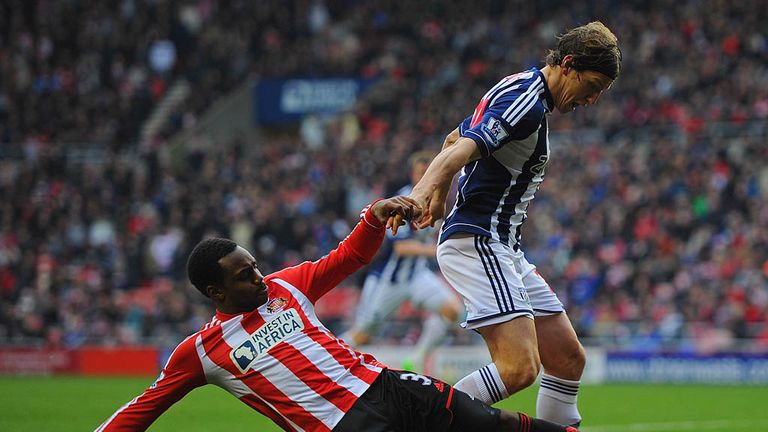 The Black Cats had hoped for a maximum return from successive home games against West Brom and QPR after ending their wait for just a second Premier League victory of the season at Fulham.
However, Tuesday night's 0-0 draw with Harry Redknapp's new charges, coupled with a 4-2 defeat by the Baggies, left storm clouds hanging over the Stadium of Light after just a single point was banked.
Rose, on loan at Sunderland from Tottenham, knows something needs to change quickly if the club is to avoid slipping into a similar situation to the one which prompted Steve Bruce's departure and Martin O'Neill's arrival a little short of a year ago.
He said: "Even at the weekend, we were disappointed in how we had lost the game and last night was a game we wanted to win and we thought we could win.
"It was always going to be difficult with a team who have just got a new manager because they will get an extra 10, 20 per cent buzz around the team and the confidence builds up, and it was difficult.
"But nobody can afford to hide now, We need 11 fighters on the field and seven fighters on the bench who are willing to come on and help us.
"We have got a great team spirit and we are just waiting for our luck to change."
Positive
Rose was one of the few Sunderland players to emerge from the latest disappointment with any credit after the visitors responded to the challenge of impressing their new manager in concerted fashion.
Indeed, had it not been for Black Cats keeper Simon Mignolet, who put Saturday's howler against the Baggies behind him to make vital saves from Djibril Cisse, Jamie Mackie and substitute Shaun Wright-Phillips at the death, they might have left with all the points.
That said, Rangers keeper Julio Cesar did well to keep out Steven Fletcher's first-half effort and when a groin injury prevented his re-appearance after the break, replacement Rob Green produced an even better stop to prevent the Scotland international's header from crossing the line.
There were boos for the home side as they left the pitch on the final whistle, and while the Man of the Match award proved little consolation for Rose, he was remaining positive.
He said: "I know I am here on loan, but for me, this is a chance for me to show everybody what I can do.
"I don't know what's happening with my Tottenham career, so I am playing for my future at the minute.
"I know it's difficult for the lads who are here full-time and I'm only on loan, but I just want to give 100 per cent and I am always positive."