Martin O'Neill is confident that his tenure at Sunderland will prove successful
Sunderland boss Martin O'Neill remains confident he can bring success to the club.
Last Updated: 30/11/12 4:51pm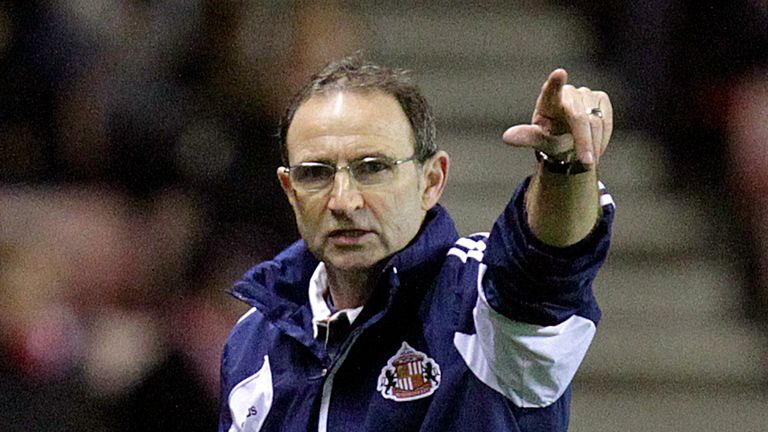 O'Neill will have been in charge for a year next Thursday and quickly guided the Black Cats clear of relegation trouble last term but they travel to Norwich on Sunday in 16th place and in danger of becoming embroiled in a more prolonged fight against the drop.
However, rumours O'Neill had resigned last weekend proved completely unfounded and he is confident that better times are ahead.
Asked how he felt after almost a year at the helm of the team he supported as a boy, O'Neill said: "It's almost exactly what I thought it would be and, from that aspect, it hasn't disappointed.
"It's a tough job, I know. (Owner and chairman) Mr Short said to me when I came here, 'Look, try to stay in the division', and perhaps we got carried away with ourselves because we were able to achieve that more quickly than I had thought.
"This season, it has been tough. I expected it to be tough and, obviously, it's important that we are in this division for next season as well.
"There is no such thing as a five or 10-year project anymore in management but it takes a little bit of time. That's very, very obvious, but I expect it to be successful."
And O'Neill also said that he is hopeful of making some key additions when the transfer window re-opens in January.
"It is the one opportunity during the course of the season that you get, and it would be inappropriate for us not to have a look at that," he said.
"We will try to strengthen if we can do. Most people will tell you that maybe it is not the best time but I have done it in the past and the players I have taken in in the January transfer window have proved pretty successful, the likes of Ashley Young (at Aston Villa).
"If you were thinking about somebody that you feel is capable of doing something pretty OK for the club for the next couple of years, then January is no different to the summertime."