Sunderland boss Martin O'Neill hoping FA Cup can end 40-year trophy drought
Martin O'Neill admits Sunderland are 'crying out' for success to end 40 years without a major trophy.
Last Updated: 05/01/13 2:04pm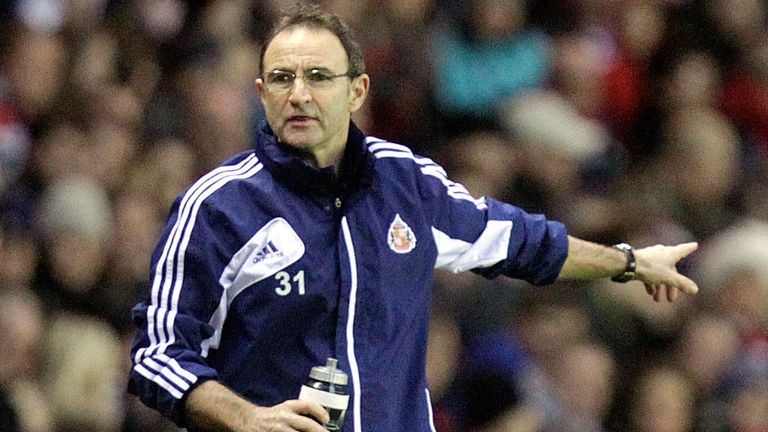 Back in January 1973 the Black Cats drew 1-1 at Notts County in the third round of the FA Cup, eventually winning the replay 2-0 to set up a cup run that would take them all the way to Wembley.
Their famous 1-0 victory over Leeds United in the final under the twin towers remains their last major trophy to date and O'Neill is all too aware of the years that have passed since.
The Northern Irishman, a boyhood Sunderland fan, takes his side to Bolton in the third round on Saturday bidding to replicate the achievements of Bob Stokoe and his class of '73.
When asked whether the 40-year anniversary should spur his players on he said: "I think, it should, yes.
"Of course, every year that great success gets further and further away so the thought of what those players achieved 40 years ago should give us some kind of ambition.
"Like every Sunderland supporter, I took great delight in that win, and maybe it's time to do something about that situation but of course it's easier said than done.
"It would mean just about everything to win it, more so than ever and the fact it is 40 years since that win tells you something.
"The club has been crying out for it for a long time. It's hard to imagine clubs like Sunderland and Newcastle can go that length of time without winning something, it's astonishing when you think about it."
Respect
Many clubs choose to rest key players in the early round of the cup, something O'Neill does not subscribe to.
This is due to his respect both for the 142 year-old competition and the 5,000 strong contingent of Sunderland fans, who will be travelling down to the Reebok Stadium for the game.
"For that reason, that's exactly you don't want to let people down," he added.
"We'll give it everything. Even if I was in position to rotate the squad more, I'd still want to give the competition the respect it's due."