Steven Fletcher happy to adapt to arrival of Danny Graham at Sunderland
Steven Fletcher insists he is happy to adapt his role at Sunderland following the arrival of Danny Graham.
Last Updated: 21/02/13 12:48pm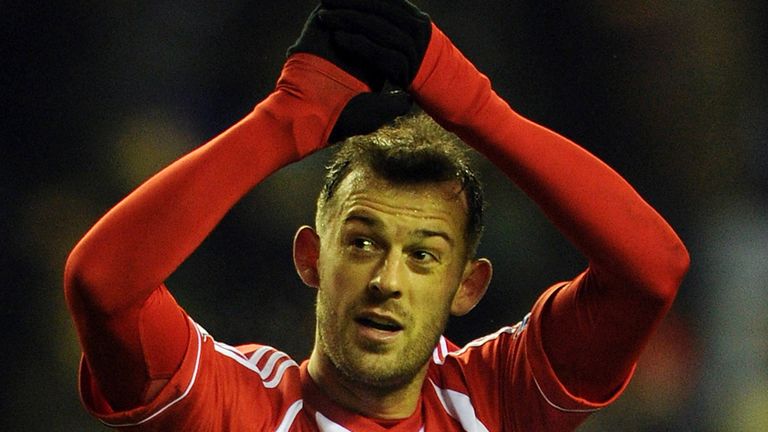 The £12million summer signing from Wolves has enjoyed an impressive season, scoring 10 goals for the Black Cats, but could now be asked to play a deeper role given Graham's arrival from Swansea.
But the 25-year-old Scotland international claims that, far from seeing himself as an out-and-out striker, he is comfortable in any system.
"I never used to think of myself as a target-man when I first started but I've learned to deal with it. I've tried to mould myself into one," Fletcher told the Sunderland Echo.
"I used to play off a main striker when I was at Hibernian, because I was actually quite small when I broke into the first team - although I've obviously grown a bit! But I don't mind whatever system I'm played in. I'm sure I'd adapt.
"I'm happy to play on my own up front, although I know not everyone is, but, for me, I quite like the added pressure of the extra responsibility. I quite enjoy it. But, having said that, I'm OK in any system.
"It's good to have Danny here. We've spoken with the gaffer about it and it's up to him to decide what formation he wants to play. But at least now he knows he has all sorts of options in terms of how to use me and Danny and Stephane Sessegnon.
"That's always good because not many managers have options, but I think he has them in abundance, so it's good for him and us.
"The gaffer changes things around all the time in training and five-a-sides, so we are always working on combinations of players, which means we're always working together.
"And even if Danny's on the other side, you can always watch what he's doing to pick up on how he plays. So it's all good for us as a squad."
Push
Having lost their last two games, Sunderland travel to The Hawthorns on Saturday to take on West Brom and defender John O'Shea knows the team must be at their best to pick up a result.
"As the manager has pointed out, where we are in the table looks fairly comfortable, but a couple of wins would really push us on," said O'Shea.
"That's what we have to do, starting at West Brom. We're under no illusions how hard it will be - we got a good hammering there last year. We'll have to be on our toes.
"But the second half against Arsenal 10 days ago was something to build on, even though we didn't score. We know we'll have to be defensively very strong as a team away from home at West Brom though."
Unpredictable
Although Martin O'Neill's side are currently 13th in the Premier League, they are not taking survival for granted just yet as midfielder Sebastian Larsson realises it has been a topsy-turvy season.
"I have never known a Premier League like it and I have been in England for 12 years now. The league is very unpredictable and it has been all season," Larsson told The Journal.
"We've seen Tottenham really push on for the top four in the last few years and obviously Manchester City are now such a force. You can't really call it a top four anymore because so many other teams are doing well.
"And the same goes for the bottom of the league where it's really tight. The entire bottom half could get into trouble, but then again a lot of those teams could end up in the top ten.
"That's why you've got to look at it in a positive way, certainly from our point of view. We've got to be honest and say we need to pick up a lot more points, but if we do well we can really push on and climb a good few places and, of course, that's what we've got to try and do."