Connor Wickham waiting to see whether he must return to Sunderland
Connor Wickham is due back at Sunderland, but is waiting to see whether a loan at Sheffield Wednesday can be extended.
Last Updated: 14/03/13 4:47pm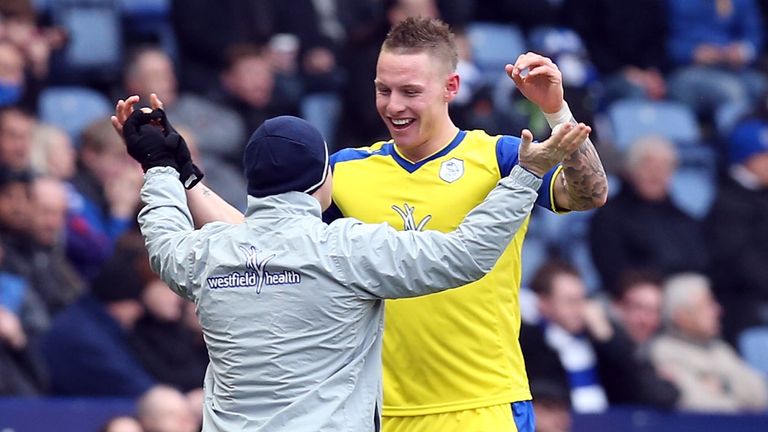 The England U21 international has spent the past month at Hillsborough in an effort to find regular football.
With game time having been denied him at the Stadium of Light, former Ipswich Town striker Wickham has enjoyed his time back in the Championship.
It is, however, looking increasingly likely that he will be drafted back into Martin O'Neill's plans on Wearside, with Sunderland desperately short on attacking options.
Wickham is, however, refusing to rule out the prospect of remaining with Wednesday.
After netting the Owls' winner against Leicester City on Saturday, he said: "I've enjoyed myself, but it's down to the clubs now and what will be, will be.
"I've been playing games here and really enjoying myself, and the gaffer has a lot of faith in me. I've played a lot of football since I've been here and I'm thankful for that.
"A decision will be made, but I'm happy here."
Goalscorers
O'Neill has hinted that he will look to bring Wickham back into the fold at Sunderland, with a 3-1 defeat to Queens Park Rangers on Saturday highlighting the Black Cats' striking deficiencies.
He said: "Even when we'd gone 2-1 behind, there was still enough time to grab an equaliser, but I don't think we put enough pressure on to try and do that because we haven't really got enough goalscorers in our team.
"We had a lot of defenders on the bench, but at the moment that's all we have. The only other option we've got is James McClean, but he was ill. He got let out of hospital around 11 o'clock on Saturday morning having spent the last two days on a drip."