Sunderland are understood to have already lined-up Martin O'Neill's successor
Sunderland owner Ellis Short is expected to waste no time in appointing a successor to Martin O'Neill.
Last Updated: 02/04/13 1:27pm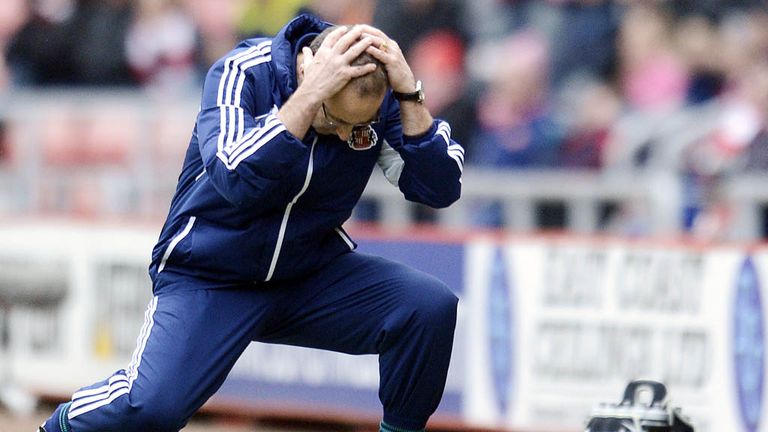 The Northern Irishman was relieved of his duties just hours after the Black Cats' 1-0 defeat to Manchester United on Saturday.
The result left Sunderland just one point above the Premier League relegation zone after picking only three points from their last eight league fixtures.
And there are suggestions that American owner Short already has a candidate in place to see the Black Cats through the final seven games of the season.
Paolo Di Canio has emerged as the bookies' favourite despite his recent acrimonious departure from Swindon while former Middlesbrough manager Steve McClaren is also being mooted for a return to the north-east.
The news of O'Neill's departure has been met with surprise from most quarters, with former England international Steve Coppell launching a stinging attack on the club's owners.
The ex-Crystal Palace and Reading boss has accused the Sunderland hierarchy of being short-sighted and says there is a lack of understanding from the foreign Premier League owners which has had an impact on the life-span of top flight managers.
He told BBC Radio Five Live: "For me I can only think there was a personal confrontation after the game.
"Martin, in his interviews after the game, looked calm, collected and inspired for the challenge ahead.
"You can only presume there was some dialogue after the game, we are in the realms I'm afraid of spoilt-brat reactions because it is their toy.
"They don't understand the history and heritage of British football - there are so many foreign owners, I have nothing against that, but there is a way of doing things in English football that has now gone out of the window.
"For me it is some sort of personal confrontation that has happened after the game and perhaps it was obvious that they are going in different directions."