Paolo Di Canio: I would bet everything on Sunderland staying up
Paolo Di Canio deflected questions on politics and insisted he would bet "everything he has" on keeping Sunderland up.
Last Updated: 02/04/13 4:51pm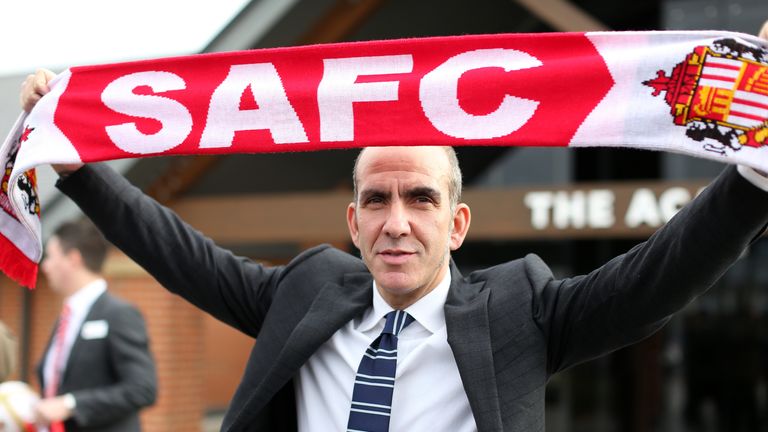 The Italian was facing the media for the first time since he was named on Sunday as successor to Martin O'Neill, who was sacked just 24 hours earlier.
Di Canio's appointment prompted a day of tumult as he was forced to defend allegations of racism and fascism amid concern from fans, anti-racism campaigners and even board members. David Miliband, the former Foreign Secretary, resigned as the club's vice-chairman over the new manager's "past political statements".
The 44-year-old made raised-arm saluted to fans of Lazio in 2005, before reportedly telling an Italian news agency: "I am a fascist, but not a racist".
Di Canio's political persuasion remained on the agenda at Tuesday's press conference but the former Swindon boss was in bullish mood when asked about the media scrutiny - and then his new squad's chances of staying up.
"I am coming to a big club, I was prepared (for the attention) to be honest," Di Canio said.
"I don't want to talk any more about politics for one reason because I'm not in the House of Parliament, I'm not a political person, I will talk about only football.
"I have massive respect for people's opinions but I don't care about what I read, not because I'm arrogant but because I know who I am and because I know I am capable of doing my job properly.
"I have said many, many words in the past and people have picked the words they wanted. My life speaks for me so there is no need to speak any more about this situation because it's ridiculous and pathetic."
Sunderland are perilously placed just a point above the drop zone following a winless run of eight games but Di Canio spoke boldly of his confidence they will survive.
"When I got the call from (chairman) Ellis Short, I felt fire in my belly! I would have swam to Sunderland to take the job," he added.
"Press like to call me the mad Italian, but I would confidently bet everything I have on Sunderland remaining in the top flight.
"With my energy I'm sure we can get something from the next seven games. I hope my ways give the team more confidence on the pitch.
"The players worked very hard in my first training session. My arrival is good motivation for them."
The right man
Di Canio's appointment has divided opinion among the Sunderland supporters but the Italian is confident he will win them over.
He said: "At Swindon, there were many people that couldn't believe Di Canio was the right man for the club.
"After two months, at the end of the game 9,000 people were there, clapping the players and singing my name.
"I don't expect the Sunderland fans to sing my name because it's more important they sing the names of the players."
Di Canio has made it clear that he expects a lot from his players and has suggested that he will look to gradually evolve the side to try and give Sunderland more of a cutting edge.
He said: "I'm a coach, I'm a teacher on the pitch, I'm not a typical manager. That's why I have the title of head coach.
"I'm not here to make a revolution. But there'll be no extra days off. There's work to do!
"There will be changes but I don't want to shock the players - that will come later!
"We need to score goals. I won't change the team around straight away but I must say, I like my teams in a 4-4-2 formation."