Sunderland boss Paolo Di Canio denies supporting fascism
Paolo Di Canio has attempted to draw a final line under the controversy surrounding his appointment as Sunderland boss.
Last Updated: 04/04/13 9:14am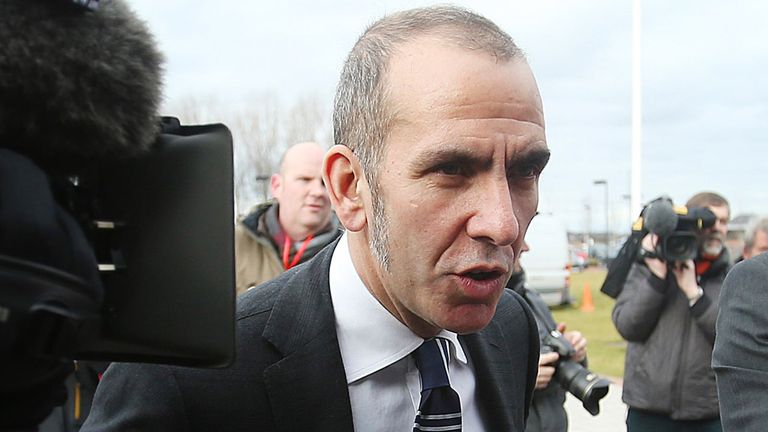 The colourful Italian succeeded Martin O'Neill on Sunday but the appointment was immediately heavily criticised by vocal opponents across the football and political spectrum.
Local South Shields MP David Miliband decided almost immediately to step down from the club's board as vice-chairman due to Di Canio's "past political statements".
The Dean of Durham became the latest public figure to voice his disquiet after Di Canio repeatedly refused to answer questions on his politics when formally unveiled to the press.
But he decided to release a statement on Sunderland's official website to finally put the episode to rest.
The statement read: "I have clearly stated that I do not wish to speak about matters other than football, however, I have been deeply hurt by the attacks on the football club.
"This is an historic, proud and ethical club and to read and hear some of the vicious and personal accusations is painful. I am an honest man, my values and principles come from my family and my upbringing.
"I feel that I should not have to continually justify myself to people who do not understand this. However, I will say one thing only, I am not the man some people like to portray.
"I am not political, I do not affiliate myself to any organisation, I am not a racist and I do not support the ideology of fascism. I respect everyone.
"I am a football man and this and my family are my focus. I will speak only of football."
The furore over Di Canio's failure to renounce fascism reached new heights earlier when The Very Reverend Michael Sadgrove, the Dean of Durham, wrote an open letter to say he was struggling to stay loyal to the club and that he found Di Canio's "self-confessed fascism deeply troubling".
Sadgrove, the child of a Jewish war refugee, said in his letter: "I believe that unless you clearly renounce fascism in all its manifestations, you will be associated with these toxic far-right tendencies we have seen too much of in this region."
He added: "Please tell me that I have misunderstood, or missed some fundamental issue here. I am simply telling you with a heavy heart that it feels hard at the moment to stay loyal."