Sunderland boss Paolo Di Canio reveals admiration for Alan Pardew ahead of derby
Paolo Di Canio reckons he will be up against a kindred spirit in Alan Pardew when Sunderland go to Newcastle on Sunday.
Last Updated: 12/04/13 6:31pm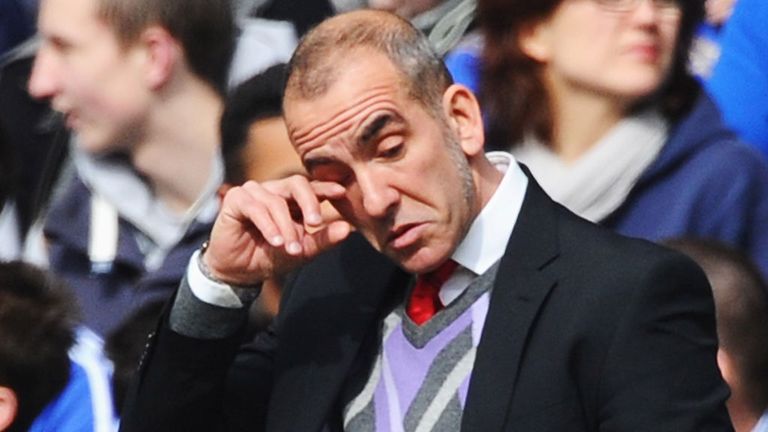 The new manager is faced with a north-east derby in just his second game since succeeding Martin O'Neill, and Sunderland will make the short trip to Tyneside outside the bottom three on goal difference only.
Ahead of the game Di Canio has revealed Pardew wrote to wish him luck in his new job, although the Newcastle boss' generosity does not extend to this weekend.
"Alan Pardew sent me a letter already this week to wish me the best of luck for the future - apart from in the derby, of course!" Di Canio told the Shields Gazette. "My answer was very gentle, but the last line about the derby was very similar to his!
"Alan Pardew is a passionate man. I like him, we don't have to fight. We saw him celebrate with the fans when Newcastle scored a late winner in the last game against Fulham at the weekend.
"When I used to do this in League Two at Swindon, people said: 'he can't do this - he's mad'. But why can't I, or Alan Pardew, celebrate a goal? As long as you don't do anything against the other team, it's fine."
Di Canio endured a turbulent first few days on Wearside as he was repeatedly questioned about his political beliefs, and the Italian was heartened by the reaction of Sunderland's supporters during his first game in charge at Chelsea.
He told the Sunderland Echo: "I understood that it might be that the fans were split over me and that made me very sad.
"But when I heard them singing my name before the game at Stamford Bridge, and especially afterwards when they were singing it again, I cannot tell you how much that meant to me.
"In that moment, in the moment I heard them, it only increased my desire to do well for this club."