Paolo Di Canio: Luis Suarez's bite was 'strange'
Sunderland manager Paolo Di Canio says Luis Suarez's bite on Chelsea defender Branislav Ivanovic was "strange."
Last Updated: 26/04/13 5:35pm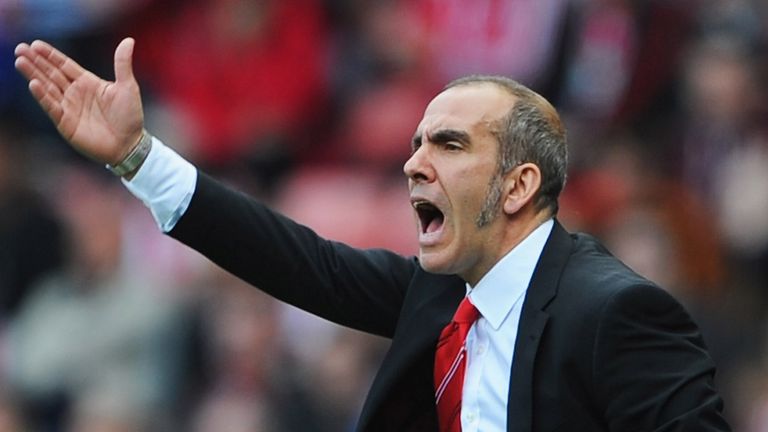 The Liverpool striker was hit with a 10-game ban after admitting a Football Association charge of violent conduct for biting the Chelsea man.
As a player Di Canio was banned for 11 games in 1998 for pushing referee Paul Alcock to the ground at Sheffield Wednesday.
The Italian admitted he had more sympathy with France legend Zinedine Zidane who was sent off for headbutting Italy defender Marco Materazzi in the 2006 World Cup final than Suarez - or himself.
Di Canio said: "He (Suarez) didn't beat me - I was 11. That's a joke, obviously. My gesture was a very bad, stupid gesture, but not a violent gesture because it was a push like a kid when you are young.
"But anyway, it was bad. It wasn't really a fair play gesture - it was very bad.
"But this one is difficult to judge for one reason: because it is unusual to see in a normal situation.
"I can understand Zidane. I don't excuse him, but if someone is swearing in your face, talking about your mama, your wife, you can lose your temper.
"In this situation, I don't know what has happened, but it is clear from the pictures that there was normal pressure from Ivanovic and you see the player pull one arm and try to bite.
"It's something that looks strange. It can't kill him, but it's something not really good to watch."
Di Canio believes the length of Suarez's ban was down to his previous record rather than just the Ivanovic incident.
He said: "It's difficult to judge - 10 games, two games, 12 games, 20 games or one game - because the punishment comes from the judges.
"They know why they gave the 10 matches - probably because he did something wrong also in the past, it's the second time.
"You put the two things together and maybe it can make him even worse. But anyway, it was strange to see, to be honest, because it's unusual.
"I remember (former world heavyweight boxing champion Mike) Tyson when he bit (Evander) Holyfield in his ear. In there, you can imagine you are very close and there is a fight, even if it is not good.
"But in the end, a footballer tries to pull one arm and bite - I smile, but there is nothing to laugh about."