Stephane Sessegnon happy at Sunderland and flourishing under Paolo Di Canio
Stephane Sessegnon says he is enjoying life under new Sunderland manager Paolo Di Canio and has not thought of leaving.
Last Updated: 29/04/13 12:48pm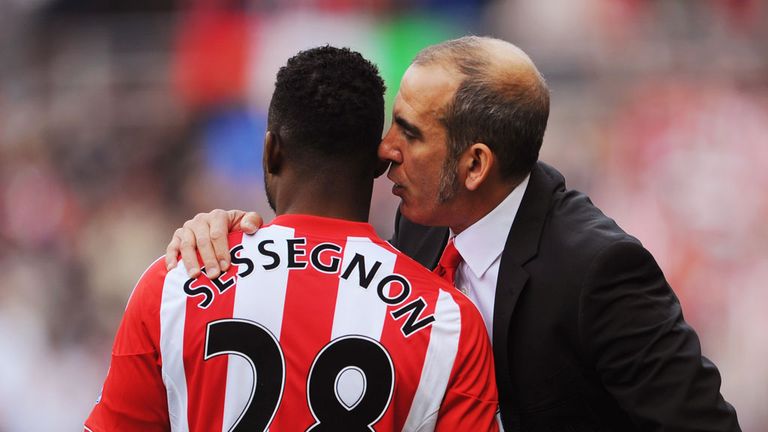 Sessegnon made the move to the Stadium of Light in 2011 but there were initially difficulties for his family settling in England and there were suggestions he may have to move on.
However, there are no longer any problems off the pitch and he is happy to stay at Sunderland, where is thriving under Di Canio.
"The issue with my family is settled now," Sessegnon said in the Northern Echo. "Two years ago when I arrived, sometimes my family wasn't here, but now it is fine.
"They live here now and the problem is completely finished. Even then (last summer) though, I never gave it (leaving) a thought. I didn't think about it and I didn't think about what was being said about me."
Sessegnon has produced a couple of eye-catching performances since Di Canio took charge off the Black Cats, scoring goals against Newcastle United and Everton.
"He has told me I can score more, more than I was scoring before," said the Benin international. "He has told me I have the quality to do that. He told me I need to score more goals, and since then I have scored two in two games.
"I like this kind of management and it shows. In one month we have had three games, and I have scored two goals. It is good at the moment. After that, we don't know, but at the moment we like this coach."
Di Canio, meanwhile, feels his own arrival as manager has been a key factor in Sessegnon's improvement and has urged the 28-year-old to keep working hard.
"Stephane is a talent, a great player," said the Italian. "If Stephane works as he's done in the last two games he's a dangerous opponent but I can tell you, from the games I watched on television prior to signing my contract here, Stephane did not give his best.
"For me, your best is when you are playing with your brain and Stephane is now playing with his brain. But when I watched the Manchester United game on television Stephane only played when he had the ball or was in a position to ask for it.
"There are times when I will allow him freedom because he is a fantasy player, like I was, and if you give them too much advice it can put them under pressure. I hope my advice can help him as it has done in the last two games.
"It is not difficult. Di Canio is not magic. I just know football. The players are intelligent and they can see the benefits of working hard."