Paolo Di Canio hopes heroes of 1973 can inspire Sunderland
Paolo Di Canio wants Sunderland to draw inspiration from the heroes of 1973 in Monday night's clash with Stoke.
Last Updated: 04/05/13 1:40pm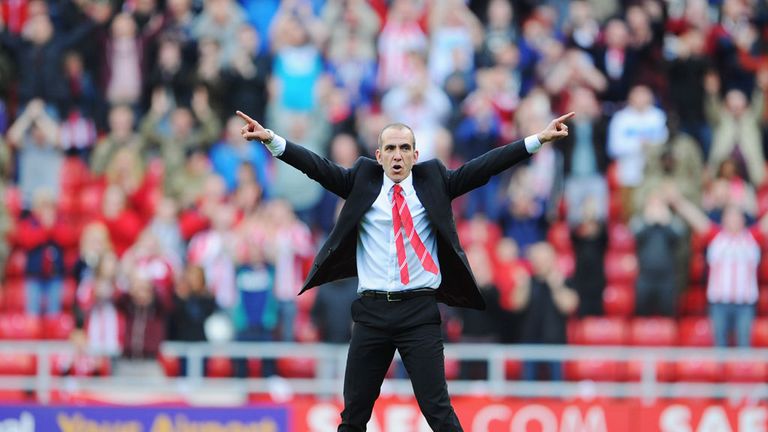 Sunday marks the 40th anniversary of Sunderland's famous FA Cup final victory over Leeds, when they beat the massive favourites 1-0 at Wembley.
Members of the team which secured its place in Wearside folklore will be presented on the pitch at the Stadium of Light on Monday evening.
Di Canio saw his men hammered 6-1 at Aston Villa last week and is hoping the atmosphere will help Sunderland win a crucial match.
He said: "I always follow the tradition of every club. Here, I discovered in 1973 they were up against Leeds and the cup and it was a fantastic moment.
"When you know this moment, you feel the atmosphere around you and the club, and everybody is prepared for this moment to receive the heroes.
"You hope that one day you can be a part of this, to deliver something really important. We live for it.
"I hope also that this moment can be shared by my players and the fans together because they can deliver a positive energy.
"It can be an extra motivation for the fans and for my players especially to deliver something important, because one day they can be remembered for the rest of their lives at this club and in this area.
"I am really happy to know Sunday is the anniversary and on Monday night we will receive before the game all the heroes from 1973, and hopefully the same atmosphere and the same positive energy can remain in the stadium for my players.
"Now we are fighting to stay up, but one day I hope we can fight for something different."
The Black Cats, like Villa and Newcastle, headed into the weekend five points better off than 18th-placed Wigan, who have a game in hand, and knowing their destiny is very much in their own hands.
"Even after this big, big defeat, we are in a better position than many others," he said.
"We have one game less to play and we have a better goal difference - obviously we reduced it a bit in the last game.
"We play at home against Stoke, so it is in our hands. It hasn't changed - if we win our game on Monday night probably we will stay up."