Republic of Ireland goalkeeper Keiren Westwood is on red alert
Alan Kelly has alerted Republic of Ireland goalkeeper Keiren Westwood ahead of the Faroe Islands World Cup qualifier.
Last Updated: 06/06/13 8:32am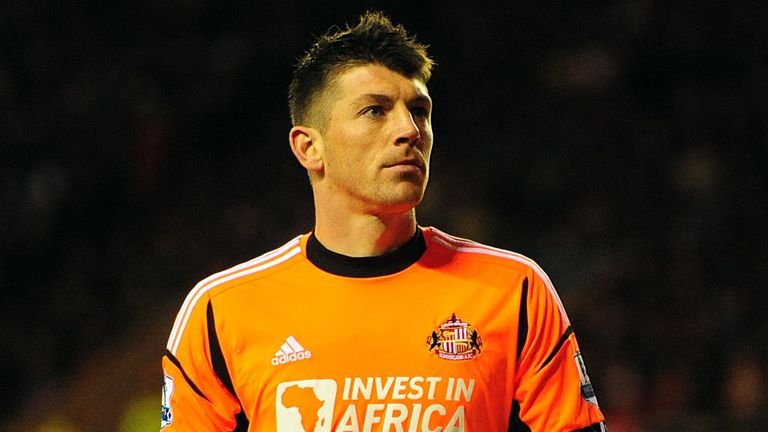 The 28-year-old Sunderland player has lost his place as Ireland's number one because of his lack of football at the Stadium of Light, and admitted earlier this week he may have to consider leaving if he is to oust present incumbent David Forde.
However, with Forde battling to shake off a calf injury, goalkeeping coach Kelly has told Westwood he needs to be ready to play whether he eventually gets the nod or not.
Kelly said: "The work ethic that we have always had as keepers, particularly here with Ireland, is whoever is playing you back them up.
"You don't let your standards drop, because if you are doing that you are not helping your fellow goalkeeper, who is going to perform for your country in that particular game, to do his best.
"That's the mantra that I always preach here. Yes, you can come in with disappointment but I will put the sessions on, I will make sure you get the work and tick every box that you need to perform if called upon.
"As long as I do that and get them into that frame of mind, then I'm happy."
Manager Giovanni Trapattoni chose Westwood as his number one after 125 times-capped Shay Given announced his retirement following last summer's Euro 2012 finals.
However, with Belgium international Simon Mignolet the man in possession at Sunderland, former Coventry keeper Westwood managed just three appearances for his club last season, all of them in the Capital One Cup, and two fewer than he has made for Ireland.
He had hoped to move in January but that never materialised, and while he insists he is generally happy on Wearside, he is desperate to play.
Kelly said: "It's one of those. Keiren will tell you himself in terms of playing - I have been in the situation myself.
"But as I have said to him, you can only keep preparing, you can only keep training, you can only keep yourself ready.
"When I was playing and not in the team, you have to get yourself right mentally and physically just in case something happens, to be able to say to the manager, 'Yes, I'm right, if called upon, I am ready to perform'.
"In terms of the politics of whether he has to move, I wouldn't get involved in that. That's between Keiren and the club, and that's how it should be.
"I'm not going to tell Paolo Di Canio how to do his job and he is not going to tell me how to be a goalkeeping coach. You have to respect what is going on there.
"It's a manager's decision and that's something that Keiren and him have to organise."