Transfer news: Velez Sarsfield expect Gino Peruzzi to seal Sunderland move
Argentina full-back Gino Peruzzi looks set to finally sign for Sunderland after overcoming injury concerns.
Last Updated: 23/07/13 11:01am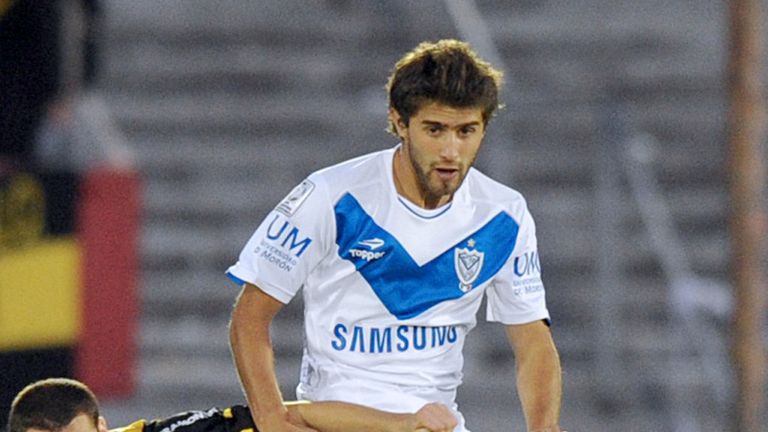 The 21-year-old had hoped to complete his transfer from Velez Sarsfield during a visit to England last week, but having agreed personal terms, there was a hitch when his medical revealed worries over a ligament injury suffered last season.
Peruzzi was sent to see a specialist in Rome and it would seem the green light has been given after he was put on a training programme to address the issue.
A statement on Velez's official website read: "Sunderland requested permission to subject Gino Peruzzi to a final evaluation at the Clinica Deportiva Villa Stuart in Rome, which is directed by the renowned Professor Pier Paolo Mariani.
"The evaluation had a positive result with Prof Mariani recommending specific work on the affected muscle area. Meanwhile, Sunderland had travelled to Hong Kong for some international matches, so the English club's authorities communicated their intention to sign the contract on the return of their president in the course of this week.
"Our club's entourage returned to Argentina on Sunday, anticipating that Gino Peruzzi will travel to England again in the coming days."
Peruzzi would be the latest addition to a much-changed squad with manager Paolo Di Canio having already made nine summer signings and allowed Simon Mignolet, Titus Bramble, Matt Kilgallon and Ahmed Elmohamady to leave the club.
Sunderland face Tottenham at the Hong Kong Stadium on Wednesday, and the winners will play Manchester City or South China FC in the final on Saturday with the two losers meeting earlier the same day.
Di Canio knows the tournament will represent a challenge for his new-look side, particularly so early in pre-season, but he is confident of making an impression.
The Italian told SAFC TV: "Always I want to win in any game. Against Tottenham in front of most parts of the world on live television, the stadium is sold out...but it is more important for me to see my players in action.
"I am sure they are going to give their best because it's a big opportunity for all of them, and the new faces that we have, to see the improvement individually, but more importantly collectively against a top side.
"Ironically, we played the last game of the season against them. We know them approximately because they haven't changed a lot. It will be a good test. Obviously, we can't see, I presume, for both sides the incredible intensity straight away because we are in the middle of pre-season.
"But we will see straight away the desire, the attitude and the quality from both teams trying to beat each other."