Sunderland manager Paolo Di Canio has hit back at his critics
Sunderland boss Paolo Di Canio brands his critics "crows" that are not worth listening to.
Last Updated: 24/08/13 2:54pm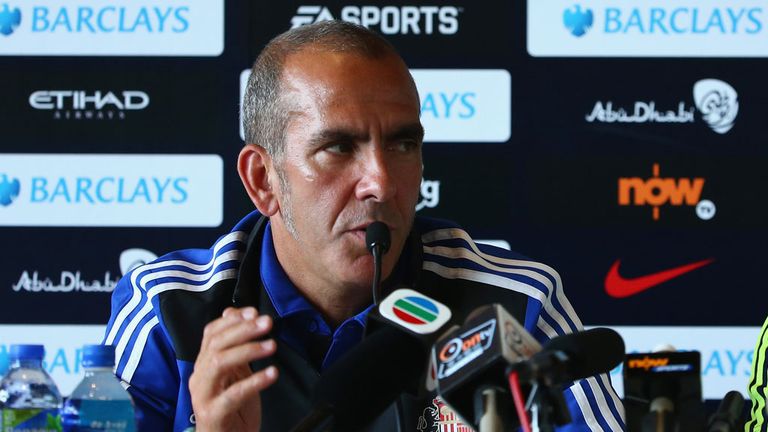 The Black Cats head to Southampton on Saturday after suffering a 1-0 defeat by Fulham at the Stadium of Light last weekend.
Di Canio knows he has yet to convince some after his wholesale summer changes - including an entire team-full of new signings, a room-key lottery on away trips and bans on everything from Marmite to drinks with ice cubes.
"I don't mind having people against me because it is very satisfying when you win at the end and prove them wrong," said Di Canio.
"What is important is that you don't give up. Don't listen to the ones who keep putting the club down - they are like crows. Everyone should stay positive because we are going to have a very good season - I'm sure about that."
Di Canio completed his 11th new signing this week with the addition of Greek midfielder Charis Mavrias from Panathinaikos, although he is unlikely to feature against the Saints, but Jozy Altidore is likely to get another chance after an encouraging debut.
"He is a fantastic player who proved himself straight away but he can do much better," added Di Canio.
"In modern football you have a lot of good athletes but maybe they don't have a good touch, but he is different from those players because he is good at everything.
"He can attack the space, hold the ball and take on his opponents and maybe strike on goal, so I'm not worried. He is 23 and very mature for his age, and I'm very happy with him."
Di Canio is tipping Mauricio Pochettino's big-spending Southampton to finish in the top half of the table but the Italian is expecting his side to claim three points at St Mary's.
"Pochettino has delivered straight away an identity for his team and in my opinion with the talented players they have brought in they are a side that can finish in the top eight or the top 10.
"They have a lot of quality and they are a tough side to face right now. But we are going to go there for a win because we know we can beat any side."