Sunderland boss Paolo Di Canio accepts FA charge of misconduct and will pay £8,000 fine
Sunderland head coach Paolo Di Canio has been fined £8,000 by the FA, having accepted a charge of misconduct.
Last Updated: 16/09/13 6:05pm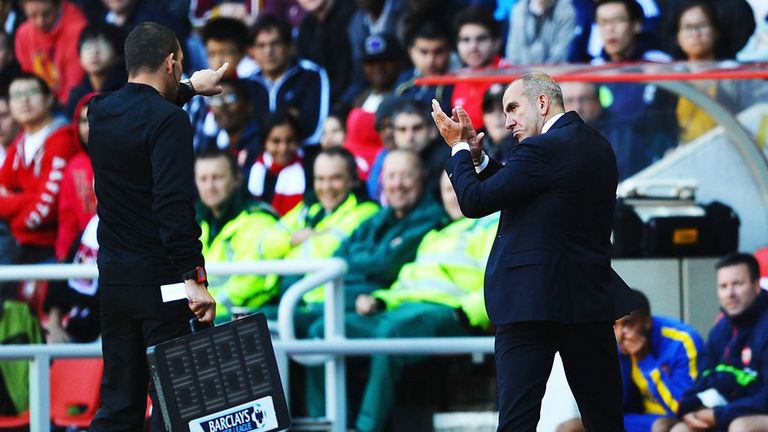 Di Canio clashed with referee Martin Atkinson towards the end of the Premier League fixture because he was angered by perceived Arsenal time-wasting and an earlier refereeing decision.
The Italian was eventually sent to the stand by Atkinson and informed the media after the match: "I said (to Atkinson), 'if you want to complete a perfect job, you can send me off'.
"He took it seriously and sent me off."
Atkinson had infuriated Di Canio earlier in the match by disallowing a Jozy Altidore goal which would have made it 2-2, pulling the game back for an earlier foul on the forward by Bacary Sagna when he could have played the advantage.
And an FA statement on Monday read: "Sunderland manager Paolo Di Canio has been fined the standard penalty of £8,000 after he admitted an FA misconduct charge in relation to his behaviour during his side's game against Arsenal."
However, Di Canio has not been banned from the dug-out, a Sunderland statement adding: "He (Di Canio) is free to take his place on the touchline when Sunderland visit West Brom this weekend."
Di Canio's side sit bottom of the Premier League table after the opening four games, having only accumulated one point.
But he is remaining upbeat and said: "After 20 games, if you are still at the bottom and you are 10 points, 12 points from the fourth place from the bottom, you can start to think, 'Eighteen games to go, OK, plenty of points, but it's difficult'.
"But now we are starting to play good football. We just have to be intelligent because many times I have experienced that, if you stay at the bottom, some belief can go far from your brain.
"But the fact is that they are intelligent and we are a work in progress. We will be knuckling down and working hard together for the next few weeks."