Paolo Di Canio bemoaned lack of leaders after Sunderland's 3-0 loss to West Brom
Paolo Di Canio bemoaned a lack of leaders in his Sunderland side as they fell to a 3-0 defeat at West Brom.
Last Updated: 22/09/13 8:19am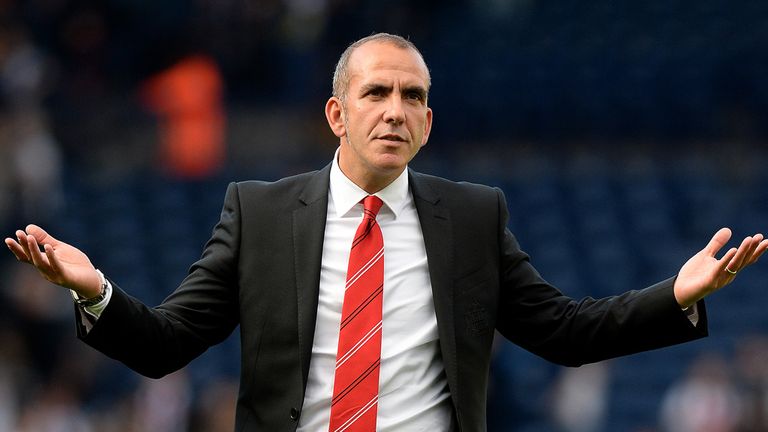 Di Canio's side started brightly but were soon behind through a goal from former player Stephane Sessegnon, but Di Canio - who approached frustrated Sunderland supporters at the end of the game and gestured that they should keep their chins up - pinpointed the second-half injury to Steven Fletcher as the turning point.
"We dominated for 20 minutes," Di Canio told Sky Sports. "The first ball in our box results in a goal. A striker alone in front of my goalkeeper.
"Then we tried to come back and created two clear chances. Fletcher then got the injury, and that is the moment we sink."
The Italian did not concentrate on Sessegnon's goal, despite the fall-out surrounding the Benin international's long-protracted move away from the Stadium of Light this summer.
"It's not hard," he said. "We decided to sell, he's just another player. It's a part of the game. You sell players and bring in players."
On Sunderland's poor start to the season, Di Canio highlighted a lack of 'nastiness' and desire from his players.
He added: "It's obvious that we're still not gelled together.
"We don't have many leaders in terms of desire. There's no desire to play with a premier style because it's difficult.
"We need to be more nasty."
Despite the Wearside club's difficult start, Di Canio remains unfazed over questions about his future.
He continued: "We had our chances. We missed our chances. We conceded two very silly goals. It's hard and it's tough, but as a strong man like I am, my head is always up.
"It depends on the players. I hope that they can keep going and gel together, and start scrapping. In this moment it's crucial to get some results."
Fletcher's second-half injury meant that Sunderland had to carry on in the second half with just 10 men, with the Scotsman worryingly stretchered off.
"Now we send him to the hospital for a proper check," said Di Canio. "There's a problem in his shoulder, so we'll see in the next few hours."
Di Canio accepts he may have a limited amount of time to turn around his side's poor start to the season - but is confident he will.
Di Canio approached frustrated Sunderland supporters at the end of the game and gestured that they should keep their chins up. He received a mixed reaction but appeared determined to show he could withstand any abuse.
The Italian feels that after a summer of hectic transfer activity he needs time for his influence to take effect.
"It is a natural process and it is difficult. We have made many changes, we have 14 new players from many countries.
"It is obvious one day if we keep going lose, lose, lose there will be a natural consequences, not only for Paolo di Canio.
"I don't think they will want to keep Paolo di Canio, they will probably want to change. But I don't think that now.
"Even if you see you are 10th in the table in this league someone can sack you because maybe they expect more.
"It is our job but I am not worried about that. I am worried about the result because obviously we want to deliver different results. I know it's difficult."