Paolo Di Canio defends record at Sunderland and insists he should have got more time
Paolo Di Canio has defended his tenure at Sunderland and insists he should have been given more time at the club.
Last Updated: 08/10/13 8:42am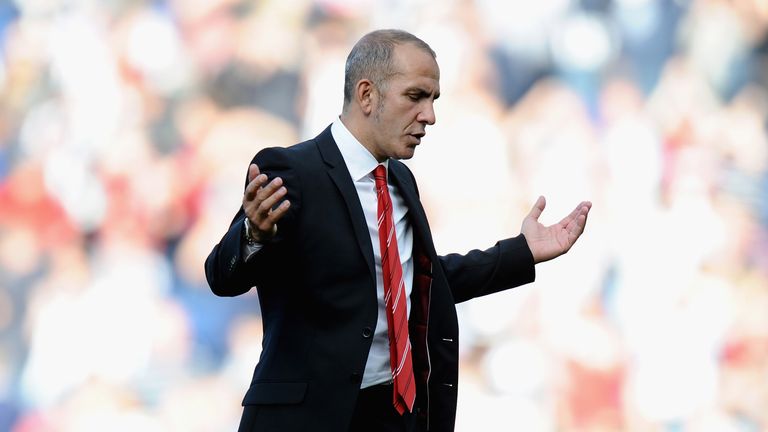 Di Canio was sacked following the 3-0 defeat to West Brom last month amid reports of a player revolt at the training ground the following day.
In an exclusive statement to Sky Sports News issued on Tuesday afternoon, the Italian pointed to his achievement in keeping Sunderland in the Premier League after succeeding Martin O'Neill last season and has denied there was a bust-up with the players.
His statement read: "When I joined the club last season with the aim of saving them from relegation I was happy to be offered the opportunity to manage in the Premier League. I walked into a challenging situation but achieved what I was asked to do, the highlight of which was the fantastic performance and win against Newcastle, which is something I will always remember.
"When you bring in 14 new players, many from overseas and very few with Premiership experience it is going to take time for them to adapt to the English game and to gel as a team. As I have said many times, I love English football and I feel that my time at the club has been unfairly cut short as given the chance, I am certain that had I been allowed longer, I would have been able to develop the team to achieve the success Sunderland fans desire.
"There has been a lot written in the media in recent days, much of it wholly untrue. There was no training ground bust-up as some are reporting and many of the players have since sent me messages thanking me for my time as their manager and helping them to improve as footballers.
"We could see that results had not gone as well as any of us had hoped, but I felt as a team we could turn things around.
"I remain confident in my ability and I want to manage again in England as soon as I can. When things like this happen it is important to take something positive from it. I have learnt a lot from my brief time at Sunderland and I am sure that this will only make me a better manager in my next job.
"Even though my time at the club ended prematurely, I would like to thank Sunderland for giving me my first opportunity to be a Premier League manager."
Sunderland defender John O'Shea stated over the weekend that several players had made a stand to call for Di Canio to lose his job as manager at the Stadium of Light.
Asked if Sunderland's players felt something needed to be done about Di Canio's regime, O'Shea told the Shields Gazette: "That was obviously done. But we have to move on now.
"Because of the position we're in in the league, we can't keep going back to it.
"We've got some difficult months ahead.
"Whoever comes in, whether it's Bally (Kevin Ball) or a new manager, we've got tough times ahead.
"We have to stick together and if we keep going back to it, it'll soon be too hard to pull back from where we are."
Interim boss Ball is to remain in charge of Sunderland for Saturday's Premier League clash with Manchester United.
O'Shea has given his backing to Ball, saying: "He's been fantastic. Everything is fairly straightforward. You know exactly where you lie with Bally and the players have enjoyed it.
"Hopefully that will continue but we'll wait and see."