Sunderland's Craig Gardner backs Phil Bardsley and praises manager Gus Poyet
Craig Gardner hopes Phil Bardsley will be given the chance to get his Sunderland career back on track under Gus Poyet.
Last Updated: 16/10/13 4:37pm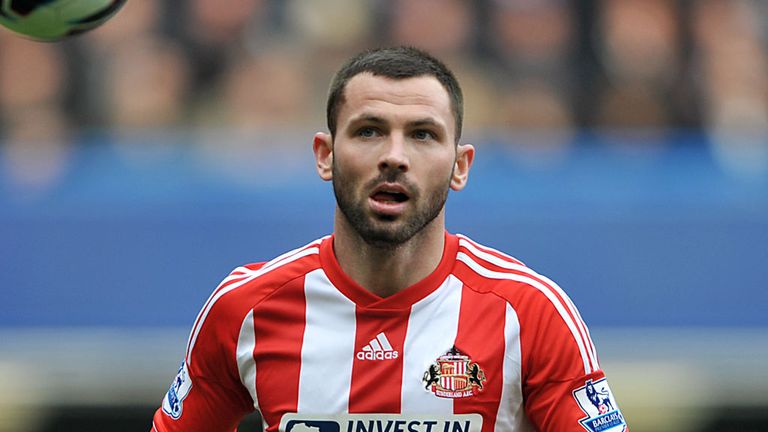 Bardsley fell foul of previous boss Paolo Di Canio after being pictured at a casino in May, before mocking the team on a social media site after their opening day loss to Fulham.
Poyet must now decide whether to offer the defender a clean slate, and team-mate Gardner insists the players are ready to welcome him back into the fold.
"Bardo's a class player and, while it is the manager's decision, I think he deserves a second chance," Gardner said in the Evening Chronicle.
"He's a good player and it was only a couple of years ago that he was our player of the year. Hopefully Phil will get that chance again because there is no doubt about his ability."
Poyet takes charge of Sunderland for the first time against Swansea City on Saturday, and Gardner has already been impressed by the Uruguayan.
He said: "The new manager has been brilliant. He has spoken to the lads - or at least all the lads that have been here during the international break - and he wants us to play in our natural positions where possible.
"I've played some games at right-back and Jack [Colback] has played at left-back, but we both prefer playing in central midfield and hopefully we'll get a chance to do that."
Poyet has also earned praise from Jack Colback, who is now working under his 10th permanent manager since he became a member of the club's youth system in 1999.
Colback likes the way that Poyet wants Sunderland to play and is convinced that he can help steer the club away from trouble.
"I've had a few changes here so I'm quite used to it now," said Colback in the Northern Echo. "It's not what you'd hope for and it's not ideal, but these things happen in football and you've got to get over it. All we are thinking about doing is pulling out of the relegation zone.
"Whoever the choice of manager was, it had nothing to do with us. We are just focused on getting results and getting away from the position we are in. It's not been good enough so far but we have a lot of confidence.
"The new manager has come in and his staff have been great with us. They've been really positive. It's been difficult for them to come in at a time when the whole squad is not here during an international break. He's been good and we can't wait for Saturday.
"He basically says he wants us to play, start to play, nice football. He has tried to introduce his own ideas and get his points across. I'm not sure if he has spoken to everyone individually. He pulled me in and I had a really good conversation with him.
"He comes across as very intelligent, the way he wants to play his football - and speaks good English. His staff are confident and positive. We need to start to get results now."