Premier League: Gus Poyet wants best Sunderland team ahead of Newcastle clash
Gus Poyet says Sunderland need to play as a team rather than individuals, but he is not yet sure what his best side is.
Last Updated: 28/10/13 11:18am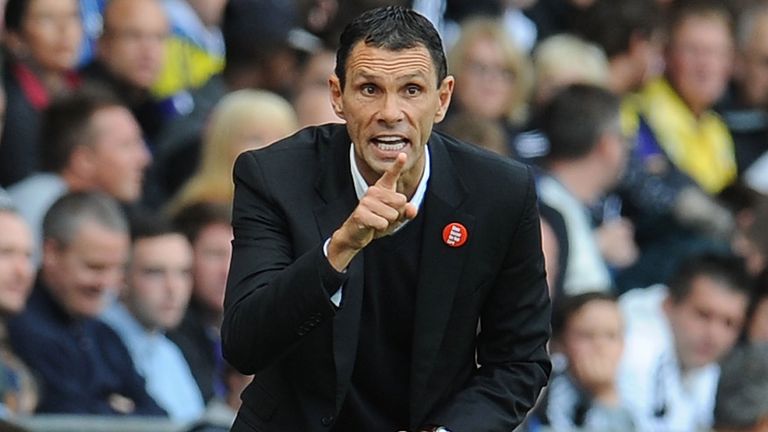 The rock-bottom Black Cats have taken just one point from their opening eight Premier League games, with Poyet's side slumping to a 4-0 away reverse at Swansea in his first game in charge.
Next up is Sunday's Wear-Tyne derby - being shown live on Sky Sports 1HD from 12.30pm - and Poyet is not afraid to drop individuals to get his side to play as a team.
He told the Sunderland Echo: "Sometimes, people say in football that you need to pick your 11 best individuals.
"No - you need to pick your best team. And sometimes that means you need to leave out one of your best individuals.
"Now we need our best team. We need characters, rather than individuals. We need players who react the right way and who are mentally strong.
"That is more important than playing your 'best' player, or the player that everybody likes.
"In my opinion, if you are to do well then you need everybody to have a clear idea of how you want to play and to understand the system.
"If two or three don't do that, it is difficult. And if those two or three are in key positions, then you have a big problem."
Places open
Poyet admits he is not yet sure of his best side, with some places still up for grabs.
"It is clear that, over the eight games so far this season, the 11 players on the pitch week in, week out, haven't clicked yet, for whatever reason," he added.
"The day I can tell you my team from one to 11 without any doubts, we will be in a good situation.
"Now, I have an idea of seven or eight, but there are still some places open."
Poyet is up for Sunday's derby clash and expects his players to also be, saying: "I'm looking forward to it. It is going to be a very special game,
"If you ask me 'would I prefer to go into this game in a better situation and with a few more points', of course, yes.
"But this is the situation we are in, and I am going to do everything I can to help us improve it.
"And, as far as the players are concerned, if any of them need lifting when we play Newcastle at home, they don't deserve to be Sunderland players."
Watch Sunderland take on Newcastle at the Stadium of Light live from 12.30pm on Sky Sports 1 HD this Sunday